An important part of my exploration is tied to art, design, public spaces, public art, and placemaking. It might seem disconnected from the work of public administration and sustainability, but I have found my journey in these areas to be highly complementary with public administration. Interestingly, in public sector economics we speak of monuments as the perfect example of a public good and public parks and public spaces as a important common pool resources to conserve. In my art and blog I would like to share with you some of my favorite adventures with art, public spaces and public art. I hope your journey brings you the kind of joy this journey continues to bring to me.
TOPICS
Art Nouveau and Glasgow, Modern Art
Piccasso's Guernica, and Peggy Guggenheim
Kwoma Ceremonial House Ceiling
Palladianism and the English Country House
Running into Roman Architecture and Sculpture: Ephesus and Roman Theater – Amman, Jordan
Rina Banerjee is a Rock Star
Public Art Japantown San Francisco, CA
Carpets on the Table
Gustav Klimt and the Portraits of Ria Munk
Ice Art Quebec City, Quebec
Islamic Art: Comparing Two Ships
Egyptian Royal Tombs
Public Art San Jose
Cindy Sherman is Everyone
Public Art BSU Bridgewater, MA
Victorine Meurent is So Much More
Camp – Metropolitan Museum of Art, New York City, NY
Shipbuilding is the Reason for Viking Expansion
Korean Moon Jar
Women Impressionists
Public Art Tucson, AZ
Fun with Flowers
Archeology Tackles Myths About Vikings
Bergdorf Goodman Windows
Islamic Gardens
Public Art Central Park, New York City, NY
Heritage Gardens and Museums
Everyday Egyptian Lives in Artifacts
Spaces Arizona
Hair
In the Air
Art Nouveau and Glasgow
Glasgow, Scotland was the first European city I visited with my daughters when they were very young and is one of my favorite cities. Glasgow has carefully and beautifully incorporated old and new architecture and there are a lot of public art installations and museums with which to engage. This integration is partially made possible because of two regional designers, Margaret MacDonald and Charles Rennie Mackintosh. For twenty-five years, the married couple worked under the patronage of Catherine (Kate) Cranston, creating art nouveau spaces reflecting a concept similar to Gesamtkunstwerk or "total work of art".
Mackintosh and Macdonald used mise-en-scene, wherein the entire set of design elements comes together to tell a story and to compose a central theme. Their Glasgow tea houses, which provided alcohol-free commercial environments for community members, are the most complete examples of their collaboration. Their art touched all aspects of a space, including the design of the furniture, architecture, light fixtures, wall treatments, carpets, curtains, flooring, glass windows, metal work, and paintings. Unlike the darker stone, wood, and metal structure and furnishings of the Glasgow School of Art, which they also designed, the tea rooms use white backgrounds highlighted with pinks and greens. The natural light is a central design element and the outcome is a space meant to provide escape and respite.
The Glasgow School of Art faced two devastating fires in 2014 and 2018 and restoration continues. Also noteworthy is the restoration of one of MacIntosh's and Macdonald's the Willow Tea Rooms, just blocks away. The renovation was led by businesswoman Celia Sinclair and the Willow Teas Rooms Trust https://www.willowtearoomstrust.org/. Guests now, again, can visit and dine in the tea rooms modeled after the original spaces https://www.willowtearooms.co.uk/.
The Willow Tea Room's facade is a cool white, interrupted by glass windows with a different design at each level. Square cutouts at the door and squares painted around window frames are elements reintroduced on the back of chairs and on the ceiling medallions. Light pink roses and floral elements and light green leaves provide accents on the furniture, on the curtains, and on the wall decorations, set against a white background. The black twisting lead at the stained glass windows and on the wall art mimics the wrought iron throughout the interior and the exterior. The table lines are white and the chairs are primarily black.
On the second floor of the Willow Tea Rooms is the Salon de Luxe. Here the grey chairs were covered with purple felt, with the same square accents and the dominant white background. At the center is a glass chandelier hanging from a square medallion with square cut-outs. Using a single black and white photograph, it was recreated to be a focus of the tea room. Unlike the geometric effect of the remainder of the spaces, the chandelier is somewhat freeform, with large clear ovals hanging from two huge black rings. Approximately two-hundred smaller glass balls in pink and green and elongated clear glass teardrops also encircle a clear globe. Unlike more contemporary designs, the metal copper elements and the bubbles or seeds are left visible and natural light again plays a leading role. See the photos here:
Art nouveau unifies the architecture and the interior spaces of Glasgow. When combined with the other museum and public art experience it is a great joy to visit. Among my favorites are the Kelvingrove Art Gallery and Museum, the Lighthouse (https://www.thelighthouse.co.uk/), and the Gallery of Modern Art (https://galleryofmodernart.blog/). There is also the amazing Open Museum, which takes pieces of art from museum collections to share publicly in more accessible settings.
References
Brocklehurst, Steven. 2018. The Tea Rooms That Brought Mackintosh Back to Life. BBC Scotland News at https://www.bbc.com/news/uk-scotland-45019383 retrieved Oct 15, 2015.
Carrell, Severin, Libby Brooks, and Kevin Rawlinson. 2018. Heartbreaking fire guts Glasgow School of Art a Second Time. The Guardian. https://www.theguardian.com/uk-news/2018/jun/16/firefighters-tackle-blaze-at-glasgow-school-of-art retrieved Oct 15, 2015.
Escrit, Stephen. 2000. Art Nouveau. Phaidon: London.
McKean, John and Colin Baxter. 2005. Charles Rennie Mackintosh: Architect, Artist, Icon. Colin Baxter Photography: Edinburgh.
Modern Art, Guernica, and Peggy Guggenheim
As a child, there was one painting, Pablo Picasso's Guernica (1937, Reina Sofia) that drew me in over and over again. I would sit in front of a poster print copy of it in our dining room for long periods of time, with a hardback chair turned to face the wall, trying to understand each section of the painting. Everyone in the painting seemed to be screaming, with the exclusion of the dead child in her mother's arms to the left and with the inclusion of a figure in flames to the right. In addition to the suffering of people, there was the suffering of animals, a horse, a bull, a bird. The work is powerful and moving, even if the subject is not clearly identified, because the emotion is also in the energy and flow of the lines and shapes.
See more about the work here: https://www.museoreinasofia.es/en/collection/artwork/guernica
The painting is in shades of black to white, in the colors of newsprint, and was created as part of the Spanish Pavilion at the 1937 Paris International Exposition (MNCARS 2019). Guernica is a Cubist and Surrealist painting by the most well-known modern artist. Because it is the most interesting of the modern pieces to me, I will it use to try to explain why others might be interested in exploring Modern Art (period approximately 1860 to 1970), touching on other artist's works as well to make my points.
As background, I'd like to share information about a gallery which helped me to better understand Modern Art. In Venice, Italy there is a one-story, white stone home on the Grand Canal near the Accademia dell' Gallerie, which is now the Peggy Guggenheim Collection (https://www.guggenheim-venice.it/). Peggy Guggenheim, niece of Solomon Guggenheim (of the Guggenheim Museum in NYC), lived in the home and curated works by modern artists including Picasso, Kandinsky, Ernst, Klee, Mondrian, Pollock, Calder, Tanguy, Severini, Duchamp, Dali, and Miro. These artists were her friends, sometimes her lovers, and she was married to Max Ernst. Peggy Guggenheim's life was important to my understanding because her relationships and experiences tied together so many of the well-known modern artists. She collected their work, but also created a history of the time. She was Jewish and a lot of the history was tied to World War II. She protected not only the art but also the artists she connected with. She is the perfect example of a skeptic of Modern Art, who later became its strong advocate.
Her favorite work, On the Beach, is a Surrealist painting in light blue and sand of two girls playing on a beach with a boat, with an observer watching them from the horizon and hangs in what used to be dining room of her home. It is also by Pablo Picasso, which is not surprising, but interesting in that we have a favorite modern artist in common. She got to live with her favorite work for a large part of her adult life. The Picasso in her dining room, of course, is the original.
More surprisingly, Peggy Guggenheim herself was more interested in the art of the Accademia dell'Gallerie and its Renaissance Art collection in the early part of her life and somewhat put off by Modern Art (Guggenheim 1960). She shares the story of Elinor Roosevelt's visit to her home and the first lady's avoidance of the Surrealist collection with a plea that she did not really understand Modern Art (Guggenheim 1960, pp. 141-142). Peggy Guggenheim's commentary on why she defended her eventual devotion to collecting modern works is critical and may have been meaningful for Elinor Roosevelt, who may have understood its importance to history. Guggenheim stated that she chose to collect these works because they were "the art of her times" (Guggenheim pp.122-124). Modern Art is unsettling and sometimes disturbing to observe. What is so engaging about Modern Art is that it represents work from a time in which the world was disturbing and changing, where there were two world wars, where millions of Jewish citizens were murdered, and where several social revolutions from women's rights to socialism took place.
In the Peggy Guggenheim Museum one can take part in the experiments by artists who chose to capture a subject from many perspectives at the same time (Cubism), from the point of view of the subconscious (Surrealism), from the emotional and ideological core of the subject (Expressionism), and from an emphasis on color and representation over realism (Fauvism). These definitions are simplified, but the fact is that the artists intentionally tried new concepts in their art. The experiments are themselves a response to a difficult and complex world.
Max Ernst's Surrealist Antipope (1942) and the Attirement of the Bride (1940) depict dream like subjects where animal and people, heaven and earth are mixed together and we see the beauty of the works while being unsettled by the topic. In Gino Severini's Expressionist Sea=Dancer (1914) the colors and emotions of the dancer and the sea, which have become one, are so strong that they overflow the canvas and literally splash onto the wooden frame. It is the emotional power of the works and their ability to portray the challenges of their time that makes them especially engaging. Understanding Modern Art requires a little bit of investigative work, the relationships of the artists with each other and with their time is like a puzzle with thousands of pieces. As each piece is carefully assembled in place, new dimension as to the meaning of the works, beyond their readily apparent beauty or geometry or color or lack thereof, emerges.
After visiting the Peggy Guggenheim Museum and reading her autobiography, I was able to understand a little more about what had drawn me to Guernica. The work represents the aerial bombing of a Basque town, Guernica, in which numerous civilian lives were lost (MNCARS 2019). It is a huge 350 by 780 cm piece and, although it depicts a specific event, is a generalized view of the pain and suffering of war (MNCARS 2019). The Cubist and Surrealist approaches in the painting accentuate the commotion and chaos of war. It is impossible to tell where one appendage begins and or another ends and it is challenging to tell one person or animal from another in the chaos of parts. The confusion of the piece as a whole creates a particularly unsettling feeling, but that feeling is magnified when one observes the terror in each face of person and animal individually. Between the screaming heads of the bull and the horse, behind a layer of darker paint, is a dying dove, hidden even with a light shining immediately overhead. There is no piece of the canvas that brings comfort, but the entire work does allow us to understand the emotions of an event in history and of war in general.
Not all Modern Art depicts topics as difficult as war, but all of it does experiment with topics, materials, colors, light, and perspectives in a manner which had not been undertaken before (Acton 2004, pp. 8-34). Modern Art is important because it tries to depict the emotion and ideas behind a subject more than trying to capture a visually realistic understanding. By using materials and techniques not used before, it provides new ways to express these ideas. For those who are not drawn to Modern Art, I would recommend that she or he start with a piece that is powerful to them, even if the topic is difficult to understand or unclear upon initial viewing. By doing a little research into the artist, his or her philosophies, her or his experiences in the period, and his or her own described intentions in the work, a whole new layer of connection can occur. It might seem a lot of work to have to research a piece, especially if it isn't especially beautiful or decorative. However, the newly gained knowledge is a part of a puzzle of knowledge and understanding. The relationships of people and of ideas are part of an interesting and rich story of a time, a time where there is a complex interaction of war, science, emotion, and experimentation. It is worth it to put in the effort to unfold the meaning behind the individual Modern Art pieces and to draw out the experiences and experiments presented by the artists.
References
Acton, Mary. 2004. Learning to look at Modern Art. New York: Routledge Press.
Guggenheim, Peggy. 1960. Confessions of an art addict. New Jersey: Echo Press.
Museo Nacional Centro de Arte Reina Sofia (MNCARS). Guernica. Retrieved 3/21/19 from https://www.museoreinasofia.es/en/collection/artwork/guernica
Peggy Guggenheim Collection. Retrieved 3/21/19 from http://www.guggenheim-venice.it/inglese/default.html
Kwoma Ceremonial House Ceiling
The Kwoma Ceremonial House Ceiling at the MET's Oceanic Arts section is one of the most striking works I have seen. It is a collection of over 270 paintings, shaped roughly like shields that was commissioned in the 1970s. It is the work of Kwoma artists from the village of Mariwai in Papua New Guiena (https://www.metmuseum.org/art/collection/search/845837).
Palladianism and the English Country House
It is impossible not to notice the impact of Andrea Palladio on English country house design, with his use of symmetry, Roman traditions, structural harmony and frequent imitation. Palladio is one of the most important architects of the Renaissance, building villas, churches, and public buildings across Northern Italy and influencing thousands of others across the world (Ackerman 1966). His documentation through narrative and drawings in The Four Books of Architecture (Quattro Libri) and Antichita di Roma created a foundation on which other architects such as Inigo Jones, Richard Boyle- 3rd Earl of Burlington, William Kent, and Colen Campbell duplicated and advanced his work (Sutton 1999, Summerson 1993, Girouard 1978).
Palladio himself borrowed from Vitruvius' 1486 publication, Leon Batista Alberti's De Re Aedificatoria (1485), and Sebastino Serlio's seven books on architecture (Ackerman 1966). Palladio's designs were also influenced by travel and readings offered to him by his patron and mentor, Count Giangiorgio Trissino (Ackerman 1966). The strong tradition of Palladianism in England and Scotland is, therefore, not only drawn from the long history of influences on Palladio and his notable Vitruvian connections, but also from Inigo Jones, who brought the traditions to English country house design ( Summerson 1993). This essay provides a brief history of and describes the importance of Palladianism and Neo-Palladianism in English country house design.
The use of the books of architectural theory and application had both positive and negative impacts on architectural design in England. On the one hand, Vitruvious and Palladio provide a detailed, disciplined foundation on which to develop. Vitruvious' commitment to firmitas (strength), utilitas (functionality) and venutas (beauty) inspire classical, controlled designs that trace natural forms and shapes (British Library 2019). Palladio's focus on symmetry and balance inspire a similar harmony (Ackerman 1966). On the other hand, the process could be somewhat prescriptive, rule driven, and positivist in application, wherein designs such as Palladio's Villa Rotunda and Villa Emo are duplicated with little change or adaptation. Palladio details and discusses 1. Building materials, 2. Private houses, 3. Streets, bridges, and Basilicas, and 4. Roman temples in his Four Book of Architecture (Palladio 1570, Ackerman 1966). The designs are practical and meant to be built as new construction and outline expectations for best practice (Ackerman 1966). The recipes for building are well established in these narratives and it becomes the future architect's task to stay within classical bounds while embracing innovation. Four designers have translated these recipes into English country home design and have had a tremendous contribution on its history: Inigo Jones, Richard Boyle-3rd Earl of Burlington, William Kent, and Colen Campbell.
Inigo Jones is credited with bringing Palladian design to England in buildings such as the Banqueting House at Whitehall and Church of St. Paul (BBC 2014). Lauded as the first British Renaissance architect, he is also responsible for Wilton House, Wilshire; Queens Chapel at St. James Palace, and Marlborough House Chapel (Ross 2 2019). Little is known about Jones' early life, but he did travel to Italy twice, possessed an annotated copy of Palladio's Four Books of Architecture, and was a creator of masques for Whitehall (Summerson 1993). We do see in a quote in his textbook which criticizes the ornamentation of Italian Mannerism and which embraces the strength, function, and beauty combination introduced to him through Vitruvius and Palladio (Summerson 1993, p.169). In addition to the Banqueting Hall, for which Jones is frequently recognized, with its rows of ionic capitals on the ground floor and composite capitals on the second, the Covent Garden Piazza, St. Paul is especially powerful. Four Doric columns support a triangular pediment on a rectangle building resembling a temple, which is then symmetrically flanked by long buildings, towers, and arches (Summerson 1993, pp. 124-126). With these two structures we see Inigo Jones bring a new identity to his version of Palladianism. By looking at these two buildings together it is clear to see that he has put in the same energy, principals, and commitment into very public facing architecture as well as into private country home architecture. This trademark makes his designs more suitable and attractive to country house living, which had both private and public purposes.
As a sponsor, patron, and designer, Richard Boyle – 3rd Earl of Burlington is another critical figure in Palladianism and Neo-Palladianism as it influences the English country house. He not only helped bring Palladianism to England through his support in buildings such Chiswick House, a duplicate of Palladio's Villa Rotunda, the Westminster School, and Northwick Park, he also provided opportunities through renovations and additions to Burlington House (Summerson 1993). He carefully studied the works of Palladio and Inigo Jones and advocated the revival of the constraint in Classical architecture, in what has become Neo-Palladianism (Encyclopedia Britannica 2019). Through Lord Burlington, we see the country house fully embrace the principals of Vitruvious, Palladio, and Inigo Jones. His support of William Kent and Colen Campbell also made the growth of Palladian influence in the country house possible.
William Kent's strongest contribution to Neo-Palladianism and to the English country house were his masterful Palladian inspired garden spaces, building on Palladio's joint embrace of nature and architecture (Summerson 1993). Originally from Bridlington in Yorkshire, Kent began his study in Rome, duplicating the paintings of Old Masters (Walpole 2014). Using Italian design as inspiration and partnering with Lord Burlington, he began to include the ideas of Vitruvious, Palladio, and Jones in his interior and exterior designs (Walpole 2014). What is especially unique about Kent's work is that it was all encompassing of the interior and exterior, wherein paintings, door surrounds, furniture, ceilings, fireplaces, as well as the buildings themselves were unified through a Palladian approach (Walpole 2014). These homes not only engaged their patrons, but they also challenged and changed the hospitality and the standards of taste of the country house (Walpole 2014). The country home was a place to impress and entertain as well as a quieter space away from the chaos of city living.
Colen Campbell was also patronized by Lord Burlington and came to be a key figure in the Palladian revival of the English country house (Summerson 1993, Ross 1 2019). It is important to note that Campbell popularized the use of Palladianism design in the building of the grand 18th century country houses of Britain (Ross 1 2019). His Mereworth Castle is a duplicate of Palladio's Villa Rotunda and his Stourhead House duplicates Palladio's Villa Emo. He is also the architect of Wanstead House and Pembroke House at Whitehall (Summerson 1993). Campbell finalizes Palladianism as a corner stone of country home design in England.
There is no doubt at the impression Palladianism has left of English country home architecture. Not only has it seen revivals from the Renaissance to today, Palladianism has changed the way the residents of the country house lived their lives, embraced social hierarchies, understood the world around them, and structured their environment. It is not an overstatement to say that with the design of gardens, homes, interiors, and furniture using classical principals practically applied, these homes changed the formal and informal rules of engagement (Walpole 2014). These homes were, in fact working farms as well as symbols of social status. It is through the discipline of classical design and practically brought together by Palladianism and Neo-Palladianism that made it possible to meet this complex set of design needs in the homes described here. This paper in outlining the contributions of Vitruvious, Palladio, and Indigo Jones to the foundation of Palladianism and the contributions of Inigo Jones, Lord Burlington, William Kent, and Colen Campbell to its application to the English country house design, demonstrates its power and importance to British architecture.
References
Ackerman, James. 1966. Palladio. New York: Penguin Books.
BBC History. 2014. Inigo Jones. Retrieved on 7/12/2019 from https://www.bbc.co.uk/history/historic_figures/jones_inigo.shtml
Encyclopedia Britannica. 2019. Richard Boyle, 3rd Earl of Burlington. Retrieved on 7/12/2019 from https://www.britannica.com/biography/Richard-Boyle-3rd-earl-of-Burlington
Girouard, Mark. 1978. Life in the English Country House. New Haven: Yale University.
Palladio, Andrea. 1965, 1570. The Four Books of Architecture. New York: Dover Publications.
Ross, David 1. 2019. Colen Campbell. Britain Express. Retrieved on 7/12/2019 from https://www.britainexpress.com/History/bio/Colen-Campbell.htm
Ross, David 2. 2019. Inigo Jones. Britain Express. Retrieved on 7/12/2019 from https://www.britainexpress.com/History/inigo-jones.htm
Summerson, John. 1993. Architecture in Britain 1530-1830. New Haven: Yale University Press.
Sutton, Ian. 1999. Western architecture. London: Thames and Hudson.
Walpole, Horace. 2014. William Kent: Designing Georgian Britain. Victoria and Albert Museum. Retrieved on 7/12/2019 from https://www.vam.ac.uk/articles/william-kent-designing-georgian-britain
Running into Ancient Roman Architecture and Sculpture: Ephesus and the Roman Theater- Amman Jordan
As a child growing up in Turkey I regularly had the experience of learning from the adults in my life that the rocks in ruins on the side of a sidewalk or a sculpture leaning on a garden wall was actually an important artifact. It is an experience that is much more rare in the United States, where the stool you are sitting on as you eat your sandwich is historically important. In Turkey, in Jordan, and in a number of countries and regions across Europe and Asia, those ruins are often creations of the ancient Romans.
On a trip to Amman, Jordan, I had a similar experience in seeing the Roman Theater. I have included some of the photos here.
In celebration of that feeling of being a part of the art and architecture which surrounds us, I would like to share with you a description from one my favorite ancient Roman sites, Ephesus, looking at the Library of Celsus.
The Library of Celsus, located in Ephesus, Turkey, is a Roman classical building that was commissioned in 114 CE and completed in 117 CE. It was built to honor of Tiberius Julius Celsus Polemaenus, whose lead, marble encased coffin was placed under the library (Cartwright 2012). It held over 20,000 scrolls in Greek and Latin and was the third largest library after Alexandria and Pergamum (Caleb 2016). It was destroyed by fire and/or earthquakes and was in ruins until a German led reconstruction in 1970 to 1978 (Turkish Archeological News 2019). The building is a part of a complex of ancient classical buildings on the western coast of Turkey in the city of Ephesus, which includes the Temple of Artemis and the Temple of Hadrian.
The library is a 10 meter by 17 meter structure whose marble and brick infrastructure would have been brightly painted (Turkish Archeological News 2019). The rebuilt façade has three large entrances on the first floor, on each side of which are niches with goddess sculptures. Patrons entered through the central door into a marble floored, double-walled central room which protected scrolls from moisture (Caleb 2016). Four sets of thin, elegant, full columns, smooth and without channels as seen in Roman Tuscan design, support a frieze with plant motifs. The columns and the entablature with pediment form the aedicule which supports three sets of columns on the second story (Cartwright 2013). The second story columns are topped by three pediments, with a triangle pediment in the center and a curved or segmental pediment on the sides. The second story also likely supported four statues, which are no longer on their bases.
There is additional evidence to demonstrate that the library is a work of classical Roman architecture. First, like the Colosseum in Rome, it mixes the orders of classical architecture. In the case of the library, the first floor exterior façade has composite capitals with a mix of Ionic and Corinthian orders. Other features of the first floor capital are egg and dart motifs, dentils, and acanthus leaves. Interestingly, the Ionic volutes can be viewed equally from four directions instead of two. The second floor has shorter and thinner columns with a Corinthian design capital. Second, we see sculptures of four Greek virtues in the niches of the façade: Sophia (Wisdom), Arete (Bravery), Episteme (Knowledge) and Ennoia (Thought) (Turkish Archeological News 2019). The reintroduction of Greek mythology was commonplace in Roman classical design. Finally, the well documented provenance of the building connects it to Roman classical architecture, including a layout which follows guidelines set forth by Roman architect Vitruvius (Cartwright 2012). The Library of Celsus is an ancient building with layers of complexity in design and in the use of materials, leading the observer to support is as a powerful piece of classical architecture.
In your interactions with the world, I hope you have spaces which bring you happiness and spike your curiosity. Interestingly these monuments and artifacts are part of public art displays from the past. Whether they were intended to portray beauty, power, prestige, or honor a piece of history, they were placed with purpose and continue to be important landmarks for where we have been.
References
Cartwright, Mark. 2012. Celsus Library. Retrieved from https://www.ancient.eu/Celsus_Library/ on 5-30-2019.
Cartwright, Mark. 2013. A Visual Glossary of Classical Architecture. Ancient History. Retrieved from https://www.ancient.eu on 5-30-2019.
Celsus Library. Ephesus. Retrieved from https://www.ephesus.us/ephesus/celsuslibrary.htm on 5-30-2019.
Strom, Caleb. 2016. The Celsus Library: 20,000 Scrolls Lost to History but Its Striking Architecture Remains. Ancient Origins. Retrieved from https://www.ancient-origins.net/ancient-places-europe/celsus-library-20000-scrolls-lost-history-its-striking-architecture-remains-021095 on 5-30-2019.
Turkish Archeological News. 2019. Library of Celsus at Ephusus. Retrieved from https://turkisharchaeonews.net/object/library-celsus-ephesus on 5-30-2019.
Rina Banerjee is a Rock Star
These are photos from the San Jose Art Museum's (https://sjmusart.org/) exhibition of Rina Banerjee's work titled "Immigration and Identify". I am sharing them because walking into and through this exhibit was powerful, beautiful, and new. In short, I really love it!
Public Art Japantown San Francisco, CA
Japantown in San Francisco is exhibits beautiful public art sculptures that honor the community and memorialize the suffering of Japanese-Americans who were interned during World War II (https://www.sfjapantown.org/explore/walking-tours/). A highlight is the Peace Pagoda. There are also amazing restaurants to experience in the neighborhood .
Carpets on the Table
I have an obsession with table runners. Not the white and neutral types that fade quietly and gently into the room, but the big bold Turkish tapestry kinds with tulips, carnations, and geometric designs in red, turquoise, and yellow. Apparently I am not original and large table carpets were an important part of the decor of the English Country house.
In the 16th, 17th, and 18th centuries, European trade with the East significantly influenced the interior design of the English Country house (Impey 1989). Japan and China produced wallpapers, lacquer furniture, and porcelains and Turkey, Persia, and India supplied textiles and carpets (Impey 1989, Clifford 2018). The "exotic" nature of trade items made them highly valued as luxury items, although many were "mass produced" and then later customized for the buyer (Impey 1989). These items were also often imitated or reimagined (Clifford 2018). This narrative highlights Oriental table carpets, which were frequently found in English country homes, and will describe changes in their design for the country home (Wall 2014, Clifford 2018)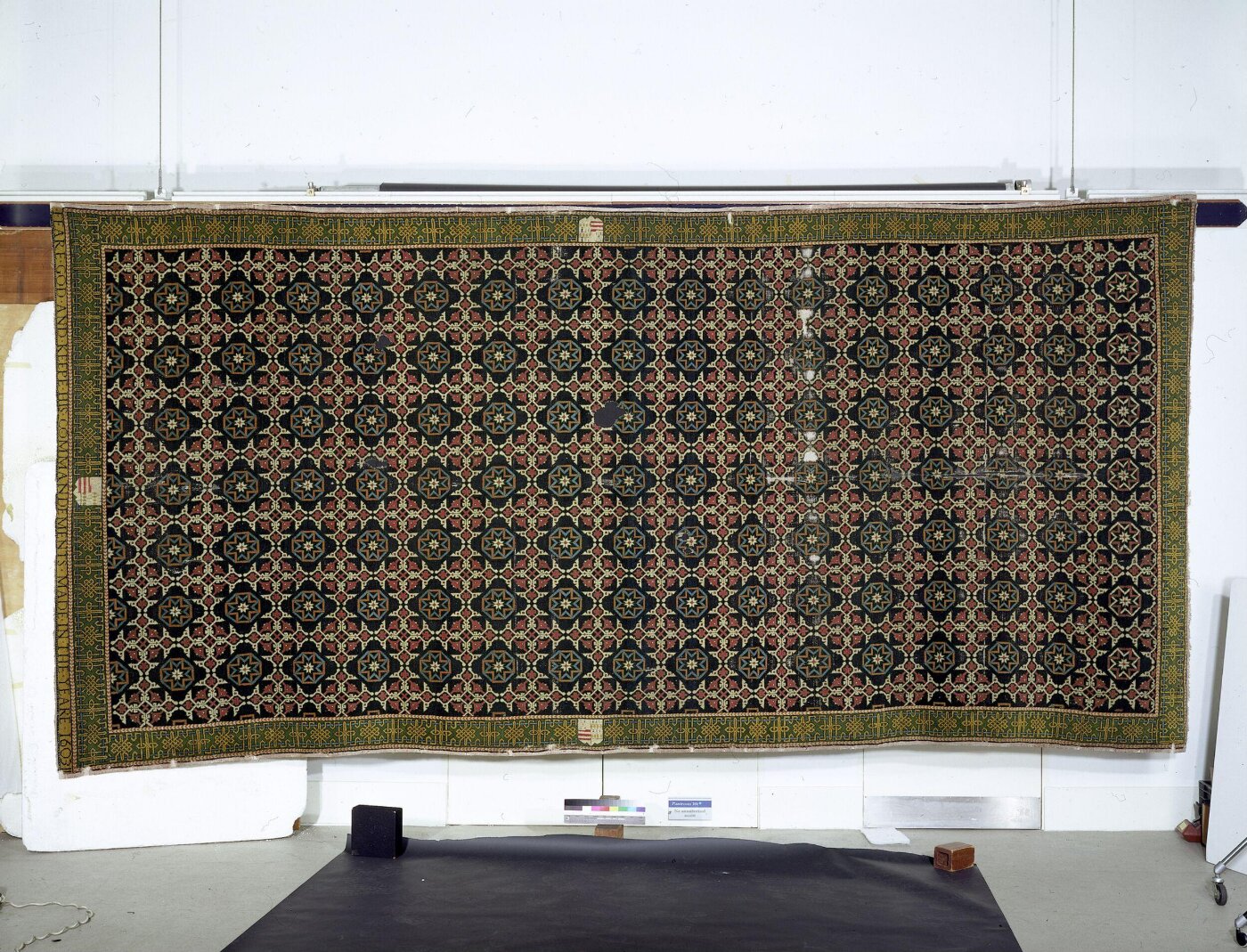 Henry VIII traveled from castle to country with sixy-six of his eight-hundred-and-one carpets (Impey 1989). Hans Holbein, who painted the King, also painted and celebrated the carpets of the period in works such as the Darmstadt Madonna (1526 – 1530, Schwabich Hall), Portrait of the Merchant Georg Gisze (1532, Berlin State Museum), and the Ambassadors (1533, National Gallery London). The first painting showcases a foot or floor carpet, which did not became popular until the 18th century (Impey 1989). The last two paintings show table carpets, which were popular in the 16th and 17th centuries. The appropriation is so deep that the term "Holbein carpet" is popularized to describe this style of Oriental carpet. The Victoria and Albert Museum showcases three wool table carpets which resemble those represented in the Holbein paintings and which are styled for use English country homes.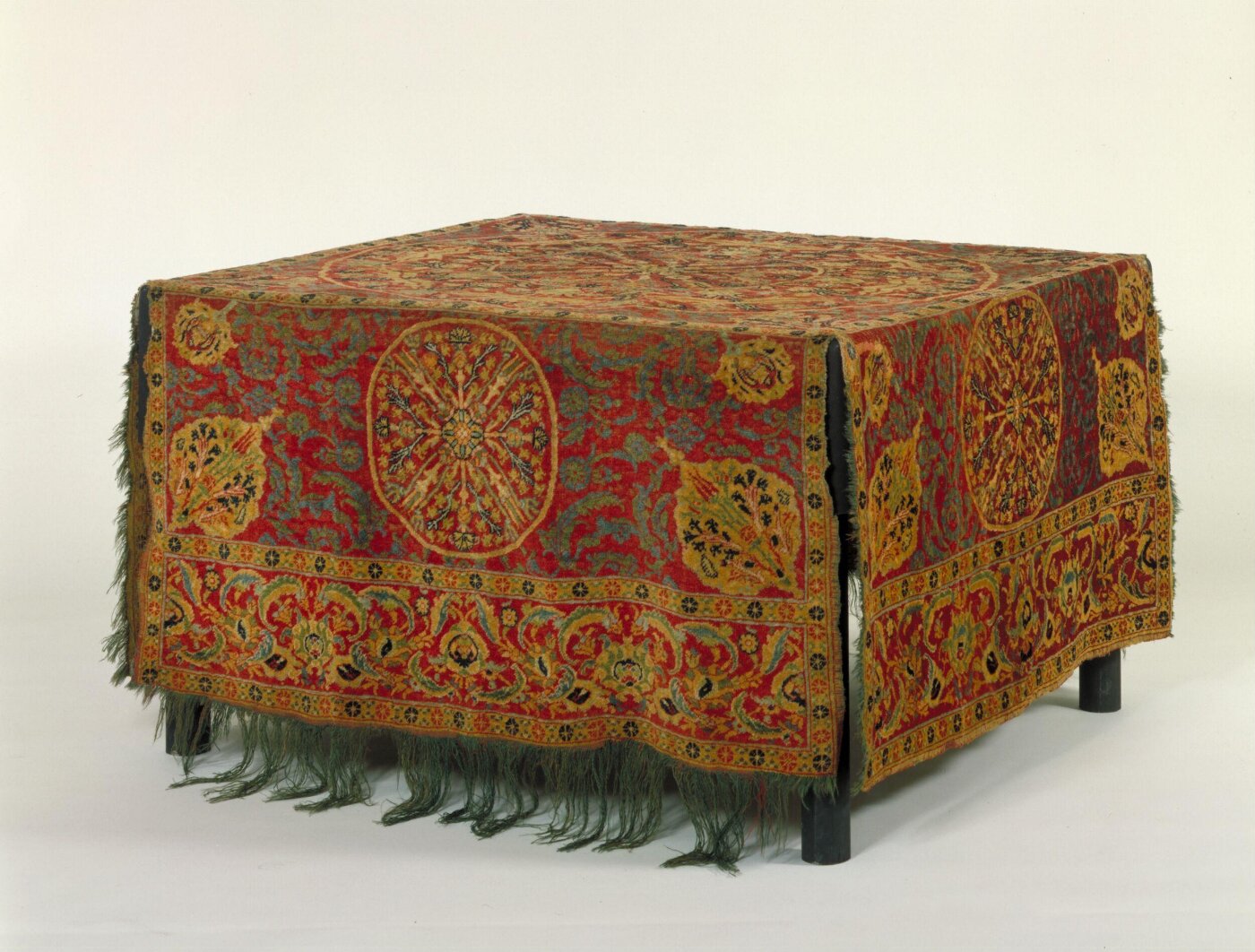 Oriental table carpets, in wool or silk, often used geometric and floral designs instead of animals or humans, in the Islamic tradition (VA 1 and VA 2). They were sometimes customized with a family coat of arms or depicted animals (VA1, VA 3, and Impey 1989). In the East Anglia table carpet (VA1), we see a wool carpet with yellow, green, red, and black geometric and floral designs with a yellow and green border. At the center of each border is a modification, a white and red coat of arms of Sir Edward Apsley and his wife Elizabeth Elmes of Lilford (VA1). In contrast, the Cairo cruciform table carpet, which is of the same base colors in much more vibrant tones and with green tasseled edges, is of an Ottoman floral tradition (VA 2). This carpet is customized in its shape and is essentially a cross instead of rectangular shape. Tables are a European furniture tradition, and not particularly an Eastern one, making table carpets themselves specialized item for the Western home. A third example is the Lahore carpet (VA 3), which not only bears the Fremlin family coat of arms, but also depicts a menagerie of animals including leopards, antelope, and elephants. The weaving in of the coats of arms, changes in shape and use, and the use of animals are unique modifications of the traditional Oriental carpet, making them an important interior element of the English country homes in the 16th to the 18th centuries.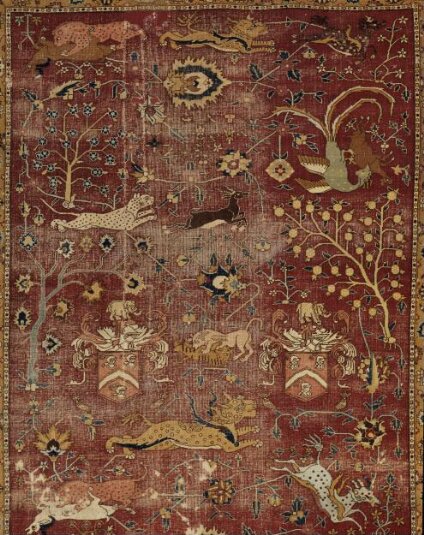 References
Clifford, Helen. 2018. Chinese wallpaper: From Canton to country house. The East India Company at home. UCL Press.
Impey, Oliver. 1989. Eastern trade and furnishings of the British Country House. Studies in the History of Art, Vol. 25: 177-192.
Victoria and Albert Museum (VA 1). 2018. East Anglia Table Carpet circa 1603. Retrieved on 6/15/2019 from http://m.vam.ac.uk/item/O77702/carpet-unknown/
Victoria and Albert Museum (VA 2). 2018. Cairo Table Carpet circa 1550-1600. Retrieved on 6/15/2019 from http://m.vam.ac.uk/item/O67146/table-carpet-table-carpet-unknown/
Victoria and Albert Museum (VA 3). 2018. Lahore Table Carpet circa 1640. Retrieved on 6/15/2019 from http://m.vam.ac.uk/item/O74043/the-fremlin-carpet-carpet-unknown/
Wall, Cynthia. 2014. Approaching the interior of the 18th Century Country House. Style 48:4, 543-562.
Gustav Klimt and the Portraits of Ria Munk
Gustav Klimt created three commissioned works of Ria Munk following her death by suicide in 1911. Aranka Pulitzer Munk, her mother and niece of Pulitzer Prize for Journalism founder Joseph Pulitzer, funded the pieces after the twenty-four year old Ria shot herself in the chest following a failed romantic relationship with forty-year old German writer Hanns Heinz Ewer. Aranka Munk rejected the first two paintings by Klimt and the third was not completed at the time of the artist's death in 1918. The three works are Ria Munk on her Deathbed (1912), the Dancer or Ria Munk II (1916), and Frauenbildnis or Ria Munk III (1918). The first is the only one to be completed before 1915, although all were started before 1915. All three are discussed here to provide a clear historical perspective, an evolution of the artists as he works with a single commissioned subjects leading to a narrative of Klimt's influence on Art Nouveau. Although these works may not as well-known or as valuable as Klimt's the Kiss, or as his portraits of Adele Bloch-Bauer, they provide an opportunity to explore his relationship to Art Nouveau, to women's depiction in Art Nouveau, to the use of Gesamtkunstwerk, Japanese, and Ottoman influences in his paintings, and to understand this artists unique contributions to the Secessionist Movement.
Gustav Klimt was the son of a gold engraver, raised with meager family resources in Vienna, Austria. He reputedly fathered fourteen children, never married, and was apparently the lifelong platonic companion to Emilie Floge, who later became his sister-in-law. His paintings reflect both his complex and obsessive connection to the women in his life. These women, depicted passionately and with great beauty, ranged from wealthy patrons to actresses and model and he reportedly had both professional and personal relationships with many of them. He is compulsive with the amount of decorative detail. The paintings of the tenderly portrayed women, in bright, shining color, with floral backgrounds, and embellished in swirling gold layers both honor and objectify their subjects. There is a texture to the paintings. They are sculpted or engraved as much as they are painted, drawing on the gold engraver's trade. The layers of paint and gold create additional shadows and light, visible only in personal observation. The scale of the paintings are monumental, with many of them close to life size figures.
His paintings, less than his pencil drawings and studies, provide a dignity to the women, although there is a seductive quality to all of his work and the artist does not shy away from sexuality. The use of women as sexual objects, highly decorated and adorned, with long flowing hair, long and darkened lashes, and impractical and embellished dress is aligned with the depiction of women in Art Nouveau as a whole. Unlike the Art Nouveau advertising posters, Klimt's women appear to be fully engaged and not "products". Like other depictions of women in Art Nouveau, they are so intricately adorned that they become one with the wallpaper, chairs, and other décor.
In viewing Ria Munk on her Deathbed, we see a woman resting her head on white pillow, with pink, red, and burgundy roses encasing her flowing dark brown hair, eyes closed, with a slight blush to her cheeks and her mouth parted slightly as if she is breathing in through it as she sleeps. Even though to the viewer without knowledge of the subject's history might assume it is a pose of a woman resting, it was apparently rejected by her mother Aranka, perhaps because it is too much a reminder of her death. Interestingly, the suicide of a young wronged lover would have held less shame and more romanticism in that time and place. The painting has a similar tone to Millais' Ophelia (1851) and shares a sensitive but romanticized treatment of its subject. Nature weaves over and through the body of the subject, but we do not see the amount of decorative detail that is to follow in the next two versions.
The second painting, the Dancer or Ria Munk II (1916), is actually two paintings. This work, in its original version, was also rejected by Aranka Munk. Speculation was that the bare chest of the subject may have been too overtly sexual. However, there is a suggestion that the version we see is a repainted piece, and that is not in the form in which it was presented to the family. This painting, which is currently at the Neue Gallery and hangs on the wall to the left of the Portrait of Adele Bloch-Bauer, is a portrait of a young woman cloaked in flowers and geometric shapes. The painting, in person, is much bluer than in photographs and is nearly six feet tall. It is unclear where the robes, the carpet, the garden, the wallpaper, and the flowers in a vase begin and end. Seven robed figures stand behind her left shoulder on green grass and appear to have an Asian influence. The painting is a patchwork of greens, yellows, and pinks, broken by the pale white flesh of the model, which erupts through the cloth, similar to how Adele Bloc-Bauer I emerges out of her skirt of golden evil eyes. In both, we see Ottoman and Japanese influences on the artist, a common foundation for Art Nouveau artists. The painting is itself a glimpse of Gesamtkunstwerk. The figure is smiling slightly, looking away from the painter, while immersed in a space that is itself a "total work of art". Every object, texture, and textile, including the female subject, has become a part of the total experience in that space.
The third painting, unfinished, is an outline of color and florals in which the female figure takes a pose that combines elements of the first two paintings. Ria Munk III (1918) is an image of a women with the same dark curling hair and white skin depicted in the first two paintings. Her hair is placed up upon her head and she is blanketed with gown that reveals only her face, neck and hands. We imagine that if the work were finished, the swirling florals in her gown would entangle with the blocks of florals in faded primary colors in the background. The subject, in this case, is very modestly dressed, like the Adele Bloch-Bauer I portrait. The gentle smile of the model and her rosy cheeks remind us of the portrayal in Ria Munk on her Death Bed.
The three related Klimt works presented here are representative of the artist's views of women and of his art. Even in death the subjects are stunning and at the center of a universe that envelopes and decorates them, but allows them to blossom out of the layers of paint. These particular works do not use the gold leaf used in a number of the artist's "golden phase" paintings, but the texture of the paint is three dimensional and the paint builds depth. Klimt is a key figure in Art Nouveau as a supporter of and participant in the Vienna Secession Movement. His works share the decorative qualities that characterize Art Nouveau and his treatment of female subjects, his use of Japanese and Ottoman influences, and his commitment to Gesamtkunstwerk also commit him to Art Nouveau. The overly ornamental style, the use of light and color, are also clearly aligned with the movement. He is the iconic Art Nouveau artist.
Finally, there is a practical side to the artist which also demonstrates his relevance to Art Nouveau and also explains why so many of his work survived, even when taken by the Nazi government in World War II. Gustav Klimt was an artist who was willing to take on both public and private commissions. His ability to market himself on projects such as the portraits of Ria Munk or Adele Bloch-Bauer, which also working on projects such as the 1902 Beethoven Frieze speak to his versatility in the marketplace. Like many Art Nouveau artists, he was able to produce items that paid attention to buyers. The works continue to be highly attractive investments today. Klimt, an artist painting long hours in a baggy smock in his studio, was highly productive and was a businessperson as well as an artist. Klimt is an icon of Art Nouveau because he embraced the complexities of the movement and created works which are amazing and decorative at their surface, but which also become more interesting and valuable the more of the history and depth of each work is exposed.
References
Gustav Klimt. The Neue Gallery. https://www.neuegalerie.org/collection/artist-profiles/gustav-klimt retrieved November 18, 2018.
The Klimt Museum http://www.klimt.com/ retrieved November 18, 2018.
Natter, Tobias. Gustav Klimt: Drawings and Paintings. Germany: Tachen Publishing.
The three portraits of Ria Munk by Gustav Klimt https://mydailyartdisplay.wordpress.com/2013/11/07/the-three-portraits-of-ria-munk-by-gustav-klimt/ retrieved November 18, 2018.
Ice Art Quebec City, Quebec
These amazing ice sculptures are a part of the Hotel de Grace rooms that are redesigned every year. This particular series is title Les Jardin. Guests can tour the rooms and rent them as well.
Islamic Art: Comparing Two Ships
Islamic art refers to monuments and cultural objects made by and for people living under rulers professing to follow Islam (Ettinghausen et al 2001, p.4). It includes religious objects like mosque lamps, Quranic manuscripts, prayer rugs, and buildings built for worship or for religious education. It also includes secular objects such as tableware, decorative rugs, and ceramic tiles. The material arts can take the form of illustrated manuscripts, ceramics, glassware, calligraphy, textiles, and a number of building structures. This paper highlights and compares two works of illustrated manuscripts, which use ink, gold, and watercolor on paper. Each depicts a galleon, one with a primary focus on calligraphy and the other is primarily figurative in nature.
The first work is a calligraphic galleon and is an ink and gold illustration on paper made in Turkey between 1766 and 1767. It is approximately 48 cm by 43 cm. (Figure 1). The calligraphy on the piece, in gold, boldly lists the names on the Seven Sleepers across the hull of the ship. The Ottoman navy often used to the Seven Sleepers narrative, thought to offer protection from sinking. The originally Christian story is often used as a protective narrative in sailing, and is reflected in the hadith and the tafsir. In addition to the large gold calligraphy, tiny Ottoman script creates an outline along the edge of the page in black ink and compromises the edges of the waves along the bottom as well parts of the ship. The words on the waves are Ottoman prose focusing on navigation and the words along the edge are Ottoman poetry. Apparently calligraphy of this type was used in Ottoman Turkey to depict figurative art in the shape of animals, ships, and mosques, using very small script to create the form. In addition to the calligraphic work, there are fine ink lines which form the three masts of the ship and two small ships in the background. The calligrapher is Abd al-Qadir Hisari.
Figure 1: Calligraphic Galleon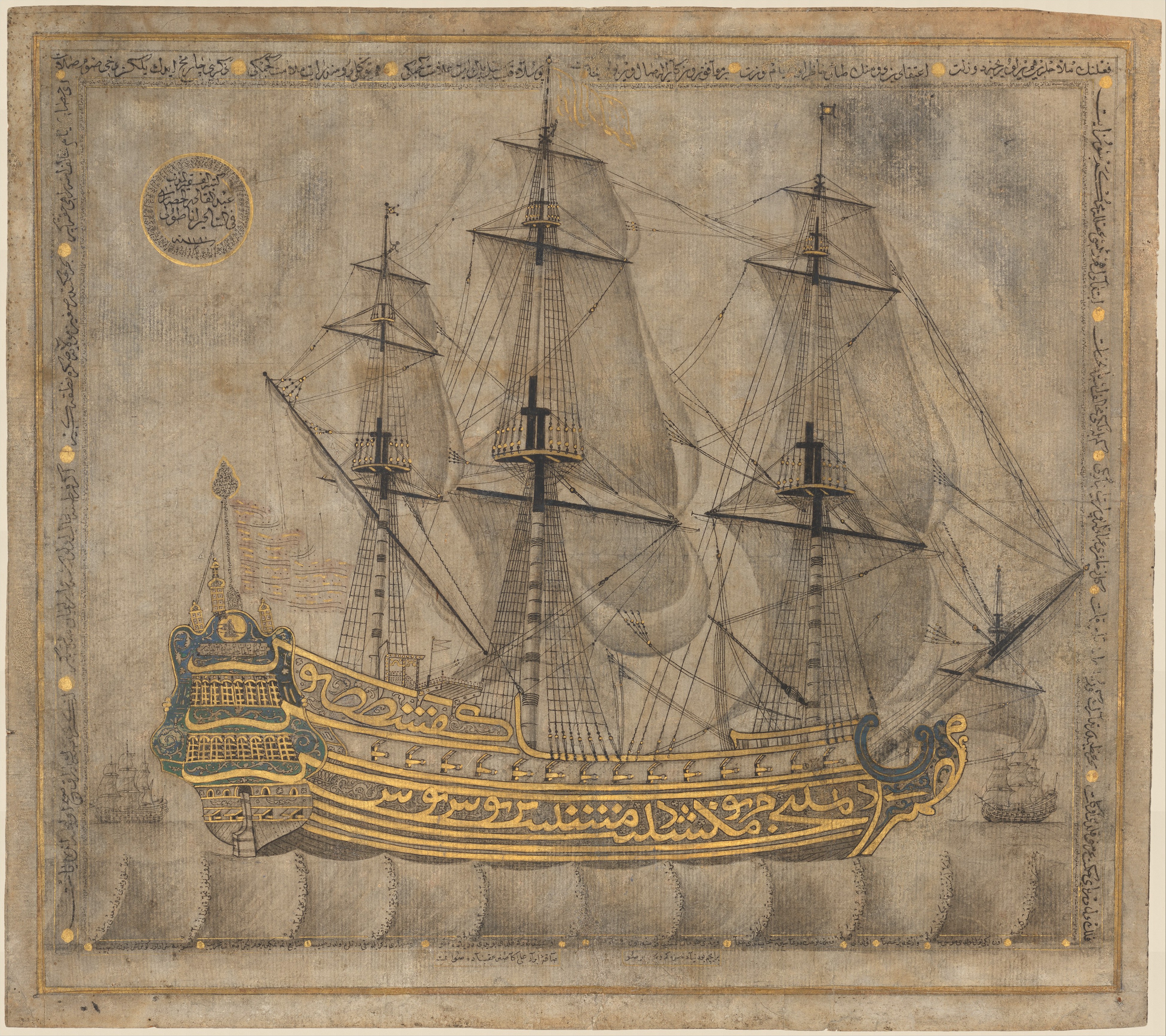 The second work is a figurative work titled "Amr has the infidels thrown into the sea", which is a folio from Khavarannama or the Book of the East and is dated 1476 to 1486. It is opaque watercolor, gold, and ink on paper and is approximately 40 cm by 28 cm. The colors of the work are vibrant and depict tales of Ali ibn Abi Talib, who is the son-in-law of the Prophet Muhammed. The illustration placed on top of the calligraphy depicts male and female figures on a boat and in the water. The black galleon has a horse head at the prow and a scorpion tail at the stern. Floral/arabesque gold designs are used on the ship and colorful flowers are printed on the sails. The work reflects a style attributed to the area of Shiraz, Iran and the piece is part of a 685 page manuscript and the image directly depicts the story (Hattstein and Delius 2015, p. 51). The script is Eastern Arabic-Indic (Persian and Urdu).
Figure 2: Amr has the Infidels Thrown into the Sea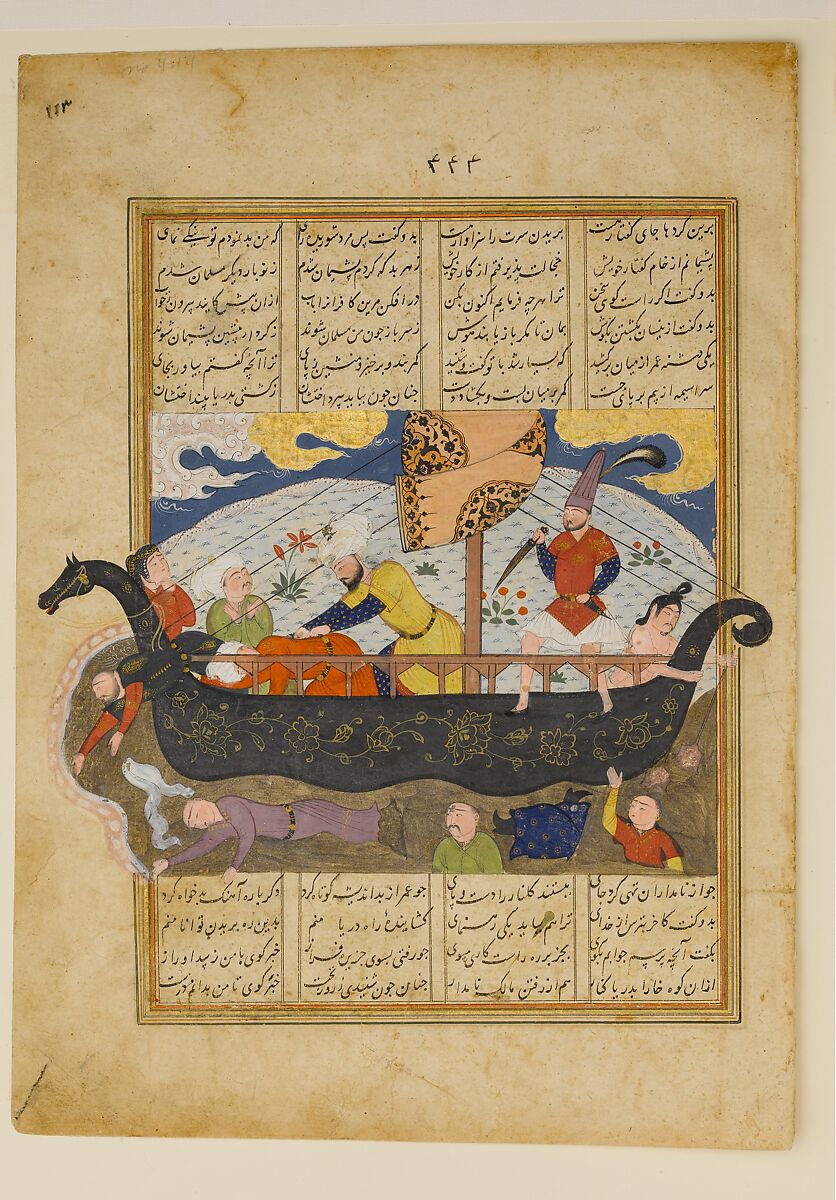 The works are both representation of Islamic Art. The following chart demonstrates similarities and differences between the two works and clarifies the characteristics that define their standing as Islamic Art (Figure 3).
| | | | | | | | |
| --- | --- | --- | --- | --- | --- | --- | --- |
| | Artist/Author | Period | Region | Calligraphy Style | Illustration Style | Figural/ Calligraphy | Secular/ Religious |
| Calligraphic Galleon | Abd al-Qadir Hisari | 1766-q767 | Turkey | Ottoman Script Use of script to create an object | Gold and Black, Script creates the object, no figurative art | Calligraphy to create an image | Largely Secular, with use as an religious protective amulet |
| Amr has the Infidels Thrown Into the Sea | Maulana Muhammad Ibn Husam ad Din (Author) | 1476-1486 | Iran | Eastern Arabic: Persian/Urdu 4 Columns | Colorful; Human, animal, and floral depictions; Directly depicts the story | Figural Illustration on Calligraphy | Secular, with some religious narrative purpose |
References
Amr has the infidels thrown into the sea. MET Museum. https://www.metmuseum.org/art/collection/search/451324?sortBy=Relevance&ft=islamic+boat&offset=0&rpp=20&pos=5. Retrieved 5/29/2018
Calligraphic galleon. MET Museum. https://www.metmuseum.org/art/collection/search/454611?sortBy=Relevance&ft=islamic+calligraphy&offset=0&rpp=20&pos=3. Retrieved 5/29/2018
Ettinghausen, Richard, Oleg Grabar, and Mariyln Jenkins-Madina 2001. Islamic art and architecture. New Haven: Yale University Press.
Hattstein, Markus and Peter Delius 2015. Islam art and architecture. China: H.F. Hullman.
Egyptian Royal Tombs
During Egypt's Old Kingdom, pharaohs were buried in pyramids and, as resurrectionists, the belief was that their bodies would be reanimated in the next life. Eternal wellbeing depended on the transport of earthly goods and fully intact bodies to house the ka, a part of the soul (British Museum 2019). Tomb robberies jeopardized this future, and in the Middle Kingdom the practice became to hide royal tombs (Malek 1999, p. 225). By the New Kingdom, 1550-1069, pharaohs were buried in relative isolation in the Valley of the Kings, on the West Bank of the Nile at Thebes (Malek 1999, p. 233).The tomb and the temple became separated after 1540, in the 18th dynasty, and tombs were chiseled out of white lime stone, the walls were covered in plaster, and painted with yellow, red, black, turquoise, white, and sky blue (Malek 1999, pp. 225 & 233).
The tomb walls of royal and of wealthy private individuals differed, clarifying expectations for the pharaoh/god. Private tombs showed scenes from daily life, including celebrations, farming, hunting, and fishing (Malek 1999 p. 225). The walls of royal tombs depicted religious narratives and related rituals, primarily from the Imi-duat or the Book of the Dead (University College London 2019). Sometimes these were two-dimensional, outlines of human figures with red and black hieroglyphs resembling drawings on papyrus, such as is in the tomb of Amenhotep II (Amenhotep ii 2019). Others were stone, statue-like reliefs, converging two-dimensional and three-dimensional art (Malek 1999, p. 235). Subject matter and style were highly prescribed. Images and proportions were copied using grids and defined narratives were associated to walls based on the direction faced.
New Kingdom royal tombs walls focus on the rituals associated with transition from the earthly life to the afterlife. In King Tutankhamen's burial chamber, the only fully intact tomb of a pharaoh, the walls depict scenes of Tutankamen in the underworld rites (Malek 1999, p. 219). Examples are the opening of the mouth ceremony by Osiris, resurrecting the body by breathing in life, or his judging of sins (Ikram 2014, p. 230). Osiris, who will later rule the underworld, and his siblings, play an important role in tomb narrative rituals. As the oldest son of Geb (Earth) and Nut (Sky), Osiris has a brother Seth, and sisters Isis and Nepthys (British Museum 2019). When Seth murders him in jealousy, practices around his burial, dismemberment, reburial, and resurrection tie directly to funerary and afterlife rituals (British Museum 2019). This resurrection myth parallels expectations for life after death for the pharaoh, including the need to bury an intact body, the use of a form-fitting coffin, the use of prosthetics to substitute for missing body parts, and continuation of duties as a god of in afterworld (University College London 2019). The tomb walls serve as a map or guidebook so that the pharaoh has a quick and smooth journey to the underworld, where he or she will take up his or her duties god and ruler again.
References
Amenhotep ii. 2019. Tomb of Amenhotep ii. Retrieved https://www.gettyimages.com/detail/news-photo/egypt-thebes-luxor-valley-of-the-kings-tomb-of-amenhotep-ii-news-photo/88701250 on 10-22-2019.
British Museum. 2019. Gods story. Retrieved from http://www.ancientegypt.co.uk/gods/story/main.html on 10-22-2019.
Ikram, S. 2014. Ancient Egypt: An Introduction. New York: Cambridge University Press.
King Tut One. 2019. King Tut's Tomb: Burial Chamber. Retrieved from http://kingtutone.com/tutankhamun/tomb/burial/ on 10-22-2019.
Malek, J. 1999. Egyptian Art. London: Phaidon Press Limited.
University College London. 2019. Ancient Egypt Burial Customs. Retrieved from https://www.ucl.ac.uk/museums-static/digitalegypt/burialcustoms/nk.html on 10-22-2019.
Public Art San Jose
Some examples of public art from San Jose California circa 2020.
Cindy Sherman is Everyone
Cindy Sherman is a modern artist acting as her own model, makeup artist, costume designer, set designer, filmmaker, and photographer. Since the 1970s, she has shown thousands of photographs of herself as a clown, as an art history figure, as a movie star, as a prostitute, and as pregnant and nursing women. It is the entire body of work seen together that demonstrates her role as a significant voice in modern art. Her feminist, expressionist approach challenges traditional views of women as sexual objects and as tools of reproduction. There is a clear message in the art. Her exhibition at the MOMA includes several stunning works which explore aging and women's identities. Untitled 466 and Untitled 477 are examples that force the viewer to engage with the subjects and to ask questions their observations.
In Untitled 466, Sherman poses in an open Italian stone and brick garden. She wears a silk cobalt blue abaya flowing from her neck to her feet, loosely covering her body and hiding her figure. One hand is on her hip and the other is on her chest, an extended leg shows one foot in a petal pink sandal. One notices the aging of the aristocrat, her white hair is pulled tightly back in a bun and wearing support stockings so tight her foot shines. Her heavy pale face makeup contrasts with a deep dark brown eyeshadow and we see a woman, still beautiful, but in battle with her age. We wonder what she looked like as a young woman and what hardships her age might bring to her status and relationships.
Untitled 477, also showcases an aging aristocrat who supports a dress with brown cloud-like tapestry on the asymmetrical top and a brown-gold silk straight skirt. A nest of white hair rests on type of the black, her eyebrows drawn thinly, her lips and cheeks too red. She leans on a wooden chair with perfectly manicured red nails and stands in front of numerous black and white sketches. Who are the portraits behind her, loved ones or ornaments and which is she as an older woman in this setting?
The works are modern art and expressionist as the observer empathizes with the aging women, their gaze directly meeting ours. The works are highly conceptual, emotional, and symbolic. The photos are snapshots of performance art, where Sherman creates theater and she plays all of the parts behind and in front of the screen. There are signs to be read, where the traditional, curtain-like costumes and the heavy makeup allow us to see the struggle of once young and beautiful women fighting their age. The texture and color of the women's clothing create an impression that they are a part of the architecture, high-end furniture in a richly decorated environment. The artist forces us to see they are objects or ornaments. Do they retain their value with age?
Reference
Cindy Sherman. MOMA. https://www.moma.org/calendar/exhibitions/1154 retrieved 2/18/2019
Public Art BSU Bridgewater, MA
Here are some photos of the public art on display at Bridgewater State University. Over the last decade a great deal of new additions have been made. The installation of fourteen new statues into what will be the Wyatt Garden will be complete fall of 2021.
Victorine Meurent is So Much More
Eduard Manet painted artist Victorine Meurent many times during his career, using her as a favorite model in some of his most well-known paintings, including Le Dejeuner de l'Herbe (1862 to 1863- Museum d'Orsay Paris) and Olympia (1863- Musee d'Orsay Paris). His paintings include depictions of her as a teen in Victorine Meurent (1862- Museum of Fine Arts Boston), Victorine Meurent in Costume of an Espada (1862- MET), and The Street Singer (1862- Museum of Fine Arts Boston) and as a middle aged women in The Railway (1873- National Gallery Washington DC). She is, in all of them, a bright eyed woman unafraid to directly fix her gaze on the uncomfortable observer. As an artist in her own right, she is a superior model, but she is also so much more.
This narrative focuses on The Street Singer, displayed in the Museum of Fine Arts in Boston. Here she is substituting for a singer who Manet observed leaving a café, but whom he was unable to convince to model for him. The young Victorine is in full costume meant for someone older and is much more modest than her controversial nude poses in Olympia and le Dejeuener de l'Herbe, less than a year later. She poses as a real person, not as heroine or goddess.
Victorine, in The Street Singer, stands facing us in a dark café doorway and solid blocks of ebony and maroon gray are broken in the background by shadow-like outlines, impressions of well-to-do café patrons, men and women, wearing black top hats and derby hats. The café and its people are common sites the impressionist Baudelairian flaneur might come up on in a Paris walk. Her figure and the patrons are framed on the left and right by ribbons of crimson. Notable is the absence of the blues and greens and of light in this work relative to many of Manet's others.
Victorine wears a black banded hat and a black trimmed gray jacket dress with a hoop skirt ballooning at the bottom. The white highlights emphasize the lightly tattered hem. Her feet, in black shoes, are barely distinguishable from under her skirt as they blend with the shadows and the gray floor. Her dress doubles her size in width and she fills nearly all of the frame as she eats shining dark red cherries wrapped in yellow paper, holding a cherry wood acoustic guitar in her left hand. The cherries are pressed to her lips with her right hand, rising out of a ruffled sleeve, but her mouth his closed. Are the cherries a prop or are they are meant to tantalize, like the ribbon tied around the neck of Olympia?
As her gray-brown eyes gaze directly at us, her red-brown hair is pulled loosely behind her head and under her hat. Her skin is pale, supple, and her face and hands are the only place we see detail in small brush strokes. She is not surprised by our presence and is perhaps uninterested in engaging us beyond this brief shared glance. We are able to see Manet's development in impressionism 1862 to1873 more clearly, as we observe differences in the treatment of the same model over time.
References
Street Singer 1862 by Eduard Manet – Museum of Fine Arts Boston https://collections.mfa.org/objects/33971
Victorine Meurent 1862 by Eduard Manet- Museum of Fine Arts Boston https://collections.mfa.org/objects/32976
Camp – Metropolitan Museum of Art – New York City, NY
Camp was an MET exhibition associated with the annual MET gala. These are photos from the 2019 exhibition.
Shipbuilding is the Reason for Viking Expansion
Shipbuilding was imperative for Viking expansion, foundational for war, trade, and colonization (Haywood 1995, 40 – 46, Danishnet, 2019). Innovations in the methods of shipbuilding, types of tools and materials used, design of ships, and types of ships all led to the success of the Vikings as they settled northern Europe and across the Atlantic Ocean (Danishnet 2019). This paper describes the types of ships the Vikings built, how they built them, and how these achievements have been documented. The evidence supports shipbuilding as central to the expanding reach of the Vikings, seafarers from the areas now known as Norway, Denmark, Finland, and Sweden (RCA 2019).
The Vikings were successful because of their ability to innovate shipbuilding, building longboats or drekar, up to 120 feet long for war and wider cargo ships, or knarr, able to carry up to 25 tons of goods for trade (Nova 2019). Some ships could support square sails up to 2175 sq ft long (Nova 2019). Fishing boats and ferries for inland river and lake travel reinforced short distance trade. Initially designed to hug the coastlines and rivers, Viking ships eventually allowed settlement of Iceland, Greenland, and North America, with additional navigational innovations (Nova 2019). The ships had as many as 72 oarsman on board and Vikings traveled across Europe to trade for wheat, honey, wool, tin, salt, wine, and glass, exchanging walrus ivory and the furs of fox, bear, beaver, and otter (RCA 2019).
Improvements in design included the clinker build, thin, overlapping oak planks built around a deep keel, and useful for warfare and raids (Danishnet 2019). Floor timbers attached to the keel and not the hull, creating sturdy, light, resilient, flexible, and efficient vessels. The planks were riveted with iron spikes and were made watertight with moss, wool, animal hair, tar, and tallow (Nova 2019, RCA 2019). The mast was slotted into the keelson and a side rudder was used for steering. Tools used included broad axes, knives, chisels, hammers, planes, drills, profile scrapers, and rivet irons (Vikingeskibs 2019). The work was disturbed among a group of shipbuilders, with an experienced builder, or stafnasmidir, leading them, creating important social and economic structures that supported both settlement and expansion (Vikingeskibs 2019).
Although no ship yard has been discovered, several types of evidence support the value of shipbuilding in Viking societies (Danishnet 2019). Written sources include sagas, legal documents, and skaldic poems and iconography such as carved monuments, wooden objects in burials, the Bayeux Tapestry, and carved monuments (Forte et al 2005). The Roshilde Fjord at Skildere, where several ships were sunk to provide a blockade during a raid, provides further evidence (RCA 2019). At Gotland we find ships and related iconography in burial grounds, but coins of Frankish, Anglo-Saxon, and Arab origin demonstrate the extent to which ships facilitated trade (Haywood 1995, 27, 38, and 40). The documentation supports that shipbuilding was central to Viking society and its expansion, with innovations supporting success in trade, raids, warfare, and colonization with unprecedented geographic reach.
References
Danishnet. 2019. Viking ships and shipbuilding. Retrieved on 11/01/2019 from https://www.danishnet.com/vikings/viking-ships-and-shipbuilding/
Forte, A., R. Oram, and F. Pedersen. 2005. Viking Empires. Cambridge University Press: Cambridge.
Haywood, J. 1995. The Historical Atlas of the Vikings. Penguin: London.
Nova. 2019. Secrets of Viking ships. Retrieved on 11/01/2019 from https://www.pbs.org/wgbh/nova/article/viking-ships/
Royal College of Art (RCA). 2019. Vikings. Retrieved on 11/01/2019 from https://www.rmg.co.uk/discover/explore/vikings
Vikingeskibs Museet. 2019. Boat builder. Retrieved on 11/01/2019 from
https://www.vikingeskibsmuseet.dk/en/professions/education/knowledge-of-sailing/the-ships-crew/crewmembers-in-the-viking-age/filungar/
My Korean Moon Jar
When I visit the MET in New York City, I always visit the Korean Moon Jar. It is so beautiful from every angle and it gives me peace. The simplicity and imperfection are what make it so attractive.
I am so excited that I now have my very own Korean Moon Jar, gifted to me recently by husband.
References
Korean Moon Jar. Metropolitan Museum of Art. https://www.metmuseum.org/art/collection/search/45432#:~:text=A%20distinctive%20type%20of%20porcelain,the%20charm%20of%20this%20jar.
Women Impressionists
Historically, the women impressionist, including Mary Stevenson Cassatt, Berthe Morisot, Eva Gonzalès, and Marie Bracquemond have received less attention than their male colleagues Edouard Manet, Claude Monet, Edgar Degas, Pierre-Auguste Renoir, Alfred Sisley, and Camille Pisssaro. This essay explores the lives and works of Cassatt and Morisot, who both collaborated with their male counter parts and challenged and embraced social and artistic precedents through their paintings (Stanska 2016). It reviews the daily lives of women, the role of the male gaze, and the influence of physical place in the development of the women Impressionists.
Background of the Artists – Mary Cassatt
Mary Stevenson Cassatt (1844-1926) was an American painter and printmaker of over 446 works with themes such as mother and child ("Maternal Kiss" 1890 Philadelphia Museum of Art and "Louise Nursing Her Child" 1889 Rau pour les Tiers Monde), theater patrons ("Woman in Pearl Necklace" 1879 Philedephia Museum of Art and "At the Theater" 1880 Nelson-Atkins Museum of Art), and women in their grooming rituals ("The Toilette" 1890 The MET). Of her works, the paintings of a mother and her child are by far the most numerous.
Cassatt studied at the Pennsylvania Academy of the Arts from the age of fifteen (marycassatt.org 2019). Twenty-percent of the students at the school were female and had limited access to artistic resources, including prohibition from using live models. In 1866, Cassatt moved to Paris and studied with private tutors from the Ecole des Beaux-Arts, where women were not admitted (marycassatt.org 2019). She returned to the USA again and then back to Europe in 1871, where she befriended Degas (marycassatt.org 2019). With his support, she applied to and was accepted into the Salon in 1872 and showed with the impressionist artists between 1879 and 1886, following a Salon rejection in 1877 (marycassatt.org 2019).
Background of the Artist – Berthe Morisot
Berthe Morisot (1841 to 1895) was a French artist who displayed with the Impressionists from 1874 to 1886 (NMWA 2019). Her paintings focused primarily on family life and the day-to-day life of upper and upper-middle class households (NMWA 2019). She worked closely with Edouard Manet and the other Impressionists. She studied under painters Geoffroy-Alphonse Chocarne, Joseph-Benoît Guichard, and Jean-Baptiste-Camille Corot, of primary influence on her and her sister Edma's art (MNTB 2019).
Her early works included plein-air pieces and copies of master paintings in the Louvre (NMWA 2019). She married Eugene Manet, brother to Edouard, and had a daughter, Julie. She frequently painted Julie, her sisters, and their children. She uses whites and grays in her works and the quality of light creates a haze over the subjects. She also uses physical barriers to divide a space, with windows, balconies, and other structures to layer and separate her subjects. Morisot's brush works are wide and free across the canvas. The New Yorker states, "the most interesting artist of her generation has been not so much underrated in standard art history as not rated at all" (Schjeldahl 2018).
Portraits of Women in Daily Life
In both Cassatt's and Morisot's works we see the everyday life of women, whether they are caring for their children, in public social settings, or in acts of grooming. Cassatt's paintings focus largely on the relationship between mother and child. Interestingly, the paintings often show a caring relationship, but not one that is not overly romanticized. The mother may be sewing or nursing her child. The works are tender, but depict the daily life of women providing caring labor in the home. We are accidental observers.
The theme of mother and child is also common in Morisot's work, but her painting is sometimes of a child or woman alone, frequently staring right into eyes of the observer. In the "Cradle" (1872 Musee d'Orsay) a thin, transparent net separates the baby from the viewer, demonstrating the relationship between mother and child, but also still using a physical device to break up the space.
For both artists, common scenes include well-to-do women picnicking in a garden, combing their hair, drying off after a bath, or attending a theater performance. They represent the bourgeois lifestyle of women in the era. The intimacy of these settings and subjects are exclusive of men, and the first difference between women and men Impressionists is the topic of the paintings. We see "respectable" women depicted in family settings and see little of the objectification and eroticism associated with the works of the male painters.
Why were these were the topics chosen by the two artists? Explanations include acceptability of the subject matter, marketability, familiarity, and the lack of access to public spaces to paint in for women. These are all relevant, however both artists did paint in public settings as students and there are some picnic or garden paintings which are in controlled outdoor environments. Presumably they could have continued partner with Degas and Manet as well as others in painting the same scenes, but they didn't frequently. One additional explanation may be the ability to honor the people in their lives they felt were most important, including siblings, nieces, and nephews. Their approach has made their subjects immortal and that is an act only women of this artistic ability and socio-economic background could achieve. The male artists made immortal many strangers and models, while these works are often about more familial relationships.
The Male Gaze
Perhaps the most prominent difference between Cassatt's and Morisot's paintings and those of the male Impressionists is the use of the male gaze. The male gaze views women as sexual objects seen through the lens of male, heterosexual observer (Smith pp. 65-66). The women in many of the Impressionist paintings are viewed through the male gaze, often with the subject enticingly staring right back into the eyes of the observer, such as in Manet's "Olympia" (1863 Musee d'Orsay).
The women in the Cassatt and Morisot works are women in their own private spaces and doing everyday things that do not put them in the same sexualized roles. Even when the subjects make eye contact with the viewer, it is as women who are mothers, sisters, and daughters. They are women in the safety and comfort of a space in which gender plays a role, but does not objectify them to the same level. Even in the more public settings such as the theater or in more intimate settings, such as the bath, the women have more control over their environment in the depictions of Cassatt and Morisot. The paintings are not made only to be viewed by men.
Women's Physical Place
Another important characteristic of the works of Morisot and Cassatt as compared to their male colleagues is the use of physical spaces. As mentioned before, Morisot's work often uses structures such as windows or railings to break up and layer the space. Even outdoor settings use trees as dividers. As interesting is that the artists both often choose settings where the women are isolated from men. The isolation may mean that the women are depicted in their home, away from men outside of their family. It may mean that the picnic is in a setting where the trees or other physical structures separate women from men. What we do not see as much of is the plein-air works in which the artist paints men and women in a public space such as a pond to swim or row in or beach scenes full of people.
For women artists, there may have been limited number of settings which can be appropriate to paint in this era. The home is the most appropriate of those settings and these two artist take advantage of that semi-private space to tell stories with their work that men would not have the same access to. One does wonder why they couldn't have joined their male colleagues more often in shared painting sessions, but it is unclear whether that is determined by social norms or by choice of the artists.
The works of Cassatt and Morisot are about women's place, their private place in the home and with family. Because of these works we have a peek into the world of women through the eyes of women. Unlike Schjeldahl, I am glad these artists are identified as women Impressionists, not because they are less than male counterparts, but because they expose us to a world that we would otherwise not have access to.
References
Mary Cassatt- The Complete Works. Retrieved March 6, 2019 from https://www.marycassatt.org/
Museo Nacinal Thyssen Bornemizca (MNTB). Berthe Morisot. Retrieved March 11, 2019 from https://www.museothyssen.org/en/collection/artists/morisot-berthe
National Museum of Women in the Arts (NMWA). Berthe Morisot. Retrieved March 11, 2019 from. https://nmwa.org/explore/artist-profiles/berthe-morisot
Schjeldahl, P. 2018. Berthe Morisot woman impressionist emerges from the margins, The New Yorker. Retrieved March 11, 2019 from https://www.newyorker.com/magazine/2018/10/29/berthe-morisot-woman-impressionist-emerges-from-the-margins
Smith, P., 1995 Impressionism: Beneath the Surface, London, Weidenfeld and Nicolson (The Everyman Art Library).
Stanska, Z. 2016. Four women impressionists you shouldn't forget. Daily Art Magazine. Retrieved March 6, 2019 from http://www.dailyartmagazine.com/four-women-impressionists-shouldnt-forget/
Public Art Tucson, Arizona
These photos from Tucson, Arizona demonstrate how public art can range from very formal to less formal- from public monuments to bus stops to a piano on the sidewalk.
Fun with Flowers
Here are some fun photos from an afternoon when my daughter Kelsey and I decided to work with some spent flowers in our backyard.
Archeology Tackles Myths About the Vikings
Popular fiction and nonfiction television programs, reviews of these programs, and even some recent news articles perpetuate misunderstandings and misconceptions about the Viking era (Hammond 2018). Vikings were seafarers from the areas now known as Norway, Denmark, Finland, and Sweden (RCA 2019). The social constructs around Viking identities and histories make it difficult to organize the information available, creating gaps between documented evidence and embellishment and misinformation.
Some of this confusion might arise from the fantastic nature of Viking achievements, such as crossing to Greenland or America. Others may emerge from written narratives, such as the Sagas and histories which are sometimes only partially based on truths or which are recorded by the then enemies of the Vikings. Finally, they may be reflections and limitations of our own cultural lenses, for instance in understanding historical roles of women.
This paper provides some examples of how archeology has changed our view of the Vikings, looking at how research has disputed ongoing myths, added valuable knowledge about the day to day lives while challenging currently biases, and offered new opportunities for further investigation.
Archeology Tackles Myths About the Vikings
To begin, archeology changed our thinking by tackling some of the numerous myths about the Vikings. These are presented first because they demonstrate how scientific evidence can completely alter perspectives about history and culture. The myths addressed in this paper are that Vikings:
1. Were only barbaric warriors,
2. Never held women in esteemed positions, and
3. Were not technologically advanced, for the time.
Each of these will be discussed using a couple of pieces of evidence that change how we view the issue after reviewing archeological evidence.
Myth 1: The Vikings Were Just Barbaric Warriors
The archeological evidence suggests that this first myth is inaccurate in two ways, as the individuals we now call the Vikings were also settlers, farmers, and colonizers and they may not have been anymore "barbaric" or violent than other peoples of their time (Keys 2010, Price 2015, Metcalfe 2017).
According to Price (2015), the archeological evidence suggests that in Jelling, Denmark that Viking ancestors erected a palisade as well as burial mounds and rune stones. Metcalfe (2017) states that the region supported over 400 farmsteads, with settlements and farming was one aspect of the Viking heritage. The Vikings were, through this new lens, farmers, settlers, shipbuilders, colonizers, traders, warriors, and pastoralists.
Additionally, the Vikings may have not been any more violent than other peoples of that time. Keys (2010) states that 34 to 38 Scandinavians with burns, broken skulls, head injuries, and stab wounds to the back were located in a mass grave, probably ordered to be killed by Anglo-Saxon King Aethelred. He had paid about 26,000 pounds in silver to the Vikings between AD 991 and 994 to serve as mercenaries protecting the community from other Vikings, but this group rebelled (Keys 2010). According to the archeologists, the manner of their deaths is apparently very violent, supporting the theory that this level of violence was practiced by other societies as well (Keys 2010). The changed perspective suggests that the Vikings, although successful warriors, may have been engaging in warlike behaviors and violence common to that period of time.
Myth 2: Viking Women Didn't Hold Esteemed Positions
Archeological evidence also changes how we understand the roles of Viking women. Greshko (2019) and Molly (2019) provide archeological evidence that a skeleton buried with two horses and warrior's weapons and clothing is a female, according to DNA testing. This find suggests that women were potentially serving as warriors and at the least were provided esteemed roles as indicated by the valuables included in the burial.
In a similar fashion, burials in Oseberg, Norway in 834 of two Viking women also point to high-level roles for females (UIO 2019). The burial includes a ship with equipment, fifteen horses, six dogs, two cows, five beds, three sleighs, farming tools, kitchen utensils, clothing, combs, and shoes (UIO 2019). This suggests that, at least for elite women, that some level of power and esteem was possible.
Myth 3: Vikings Were Not Technologically Advanced
The popular view of Vikings as barbarians also ignores archeological research and the evidence changes our perspective. Archeological sites of shipbuilding point to the advanced technologies developed by the Vikings, allowing them success in war and in trade (NOVA 2019, VM 2019, RCA 2019). The Vikings were successful because of their innovations in shipbuilding, including the use of clinker building or layered planking and a variety of ship types such as longboats or drekar and cargo ships, or knarr (Nova 2019).
A second piece of evidence is the discovery of coins and other artifacts that demonstrate the distances they traveled. For instance, Frankish, Anglo-Saxon, and Arab coins were discovered in Gotland (Haywood 1995, 27, 38, and 40).Archeology around found coins supports long distances of travel for Viking trade and settlement, again breaking the myth of limited technological advancement (Whyte 2019, Giorgiou 2019).
Archeology and the Daily Lives of Vikings and Changing Points of View
Although the written narratives in the Sagas and burial evidence provides some information on the lifestyles of elite Vikings, archeology is also providing more evidence on the day to day lives of the non-elite Viking. Non-elite women, for instance, had roles different from that of men, who hunted, fished, and ploughed and were involved in shipbuilding (Haywood 1995, p.44; Nova 2019). Women regularly milked farm animals, ground grain, wove cloth, and tended to children and rarely traveled with men on voyages (Haywood 1995, p. 44).
According to the archeological evidence, there were differences in wealth and social class, as indicated by the different sizes of homes and dwellings in Scandinavian villages during the Viking era (Forte et al, 2015, p. 20). The information drawn from the research suggests that the warlords were able to travel, raid, and colonize precisely because there was stability and resources in established villages to support him and his fellow Vikings (Forte et al, p. 20).
Several changes in perspective are possible by reviewing the daily lives of the Scandinavians in the Viking Era:
Men and women held different roles in day to day life in the village.
Viking raiding, trade, and war was supported by the stability and the resources of the villages.
There were socio-economic differences in Viking communities.
Prominent Viking crafts or skills also influenced the success of the Vikings: weaving and clothmaking by women for sails and shipbuilding and sea navigation by men.
Additionally, archeological evidence may help better us better understand societies when our own biases may get in the way. Debates around gender roles, technology, and violence addressed in the disputing the myths section earlier addressed how additional evidence can change our perspective. It is possible, and maybe even likely, that new information about the daily lives of Scandinavian settlers/Vikings may also change as new discoveries are made.
Opportunities for Future Research and Future Change
In November of 2019, two British men were sentenced to prison for illegally selling Viking coins they discovered while searching with metal detectors (Schaverien 2019). All of the sold items were not able to be located and archeological evidence was lost as a result of their behavior (Schaverien 2019). The tragedy of their action is that we may have lost important evidence that could have answered some of the many remaining questions we have about Viking society. Everyday there are new finds, new discoveries that may help archeologist better connect the gaps in Viking history. More ships, burial grounds, and settlements will likely be found. Perhaps this information will dispel more myths or answer controversial questions such as whether women served as warriors or shield maidens. Perhaps books such as the upcoming publication Valkyrie: The Women of the Viking World by Johanna Katrin Frioriksdottir will be researched and written. Perhaps more of our biases will be challenged and more myths will be dispelled.
Archeology is important because discoveries can help us to reevaluate what we know about our past and our future. Unlike unscientific speculation, the lessons learned can be used to construct lessons about successes and failures. Archeology has allowed us to look at the Vikings through a continually changing lens, where in layers of evidence are still yet to be discovered and hopefully there is much more to come.
References
Forte, A., R. Oram, and F. Pedersen. 2005. Viking Empires. Cambridge University Press: Cambridge.
Georgiou, A. 2019. Viking ships discovered in sensational archeological find. Newsweek . Retrieved on 11-24-2019 from https://www.newsweek.com/archaeologists-rare-burial-ships-sensational-find-1447622
Greshko, M. 2019. Famous Viking warrior was a woman, DNA reveals. National Geographic. Retrieved on 11-24-2019 from https://www.nationalgeographic.com/news/2017/09/viking-warrior-woman-archaeology-spd/
Hammond, P. 2013. Horrible historical inaccuracies History channel's Vikings series. Retrieved on 11-24-2019 from https://www.movieguide.org/news-articles/horrible-historical-inaccuracies-history-channels-vikings-series.html
Haywood, J. 1995. The Historical Atlas of the Vikings. Penguin: London.
Keys, D. 2010. A Viking mystery. Smithsonian. Retreived on 11-24-2019 from https://www.smithsonianmag.com/history/a-viking-mystery-59648019/
Price, D. 2015. What five recent archeological sites reveal about the Viking period. Oxford University Press's Academic Insights for the Thinking World. Retrieved on 11-24-2019 from https://blog.oup.com/2015/08/archaeological-reveal-viking-period/
Metcalfe, T. 2017. Early medieval farming village unearthed near famed Viking site. Live Science. Retrieved on 11-24-2019 from https://www.livescience.com/60931-medieval-farming-village-near-viking-site.html
Nova. 2019. Secrets of Viking ships. Retrieved on 11/01/2019 from https://www.pbs.org/wgbh/nova/article/viking-ships/
Royal College of Art (RCA). 2019. Vikings. Retrieved on 11/01/2019 from https://www.rmg.co.uk/discover/explore/vikings
Schaverien, A. 2019. Viking treasure could have made them a fortune. Instead, they stole it. New York Times Retrieved on 11-24-2019 from https://www.nytimes.com/2019/11/22/world/europe/uk-viking-treasure.html
Solly, M. 2019. Researchers reaffirm remains in Viking warrior tomb belonged to a woman. Smithsonian. Retrieved on 11-24-2019 from https://www.smithsonianmag.com/smart-news/researchers-reaffirm-famed-ancient-viking-warrior-was-biologically-female-180971541/
UIO Museum of Natural History (UIO). 2019. The women in the Oseberg burial. Retreived on 11-24-2019 from https://www.khm.uio.no/english/visit-us/viking-ship-museum/exhibitions/oseberg/oseberg-women.html
Vikingeskibs Museet (VM) 2019. Boat builder. Retrieved on 11/01/2019 from
https://www.vikingeskibsmuseet.dk/en/professions/education/knowledge-of-sailing/the-ships-crew/crewmembers-in-the-viking-age/filungar/
Whyte, A. 2019. Another Saaremaa archaeological haul includes Viking-era silver coins. EER. Retrieved on 11-24-2019 from https://news.err.ee/988737/another-saaremaa-archaeological-haul-includes-viking-era-silver-coins
Bergdorf Goodman Windows
I missed the Bergdorf Goodman holiday window displays in 2020. As a tribute, here are some photos of some earlier displays!
Islamic Gardens
Landscape and nature have a unique role in Islamic art and architecture, with arabesque designs prominent on ceramic tiles, textiles, metal work, and glasswork. They adorn mosques, monuments, and palaces and accompany calligraphy in religious and secular books. One prominent purpose is to decorate religious objects in any medium. Designs of plants, leaves, fruits, trees, and flowers partner with geometric designs in creating decorative art on pieces used for religious objects where figurative design is prohibited. Another significant purpose is to connect the art with religious narratives, specifically to narratives tied to the concept of a garden paradise described in the Quran. This paper reviews the use of landscape and nature in Islamic art and architecture, with an emphasis of it use in palaces and textiles. The paper begins with a discussion of the religious significance of the garden paradise in Islam and therefore in Islamic art. It then provides an introduction to common design tenets in Islamic gardens and their relevance. It then discussed the use of nature and garden imagery in several sample pieces, highlighting a Turkish prayer rug with both architectural and garden images.
Gardens, Landscape, Nature and Heavenly Paradise
In understanding the role of landscape and nature in Islamic art and architecture, it is first important to note its relevance in the religious narrative. The link is directly to the heavenly garden paradise imagery mentioned over two hundred times in the Quran, which is stated as a path to drawing Muslims closer to Allah (Carey p.142). The earthly garden is a place of refuge, meditation, and prayer. The heavenly paradise garden is where believers share peace and abundance as a reward in the afterlife. Both are walled and one enters through a gate into a place of harmony and symmetry. The earthly Islamic garden has three main characteristics. These are the use of water, the significance of the four-parts, and green shade (Carey p. 142).
Water plays a significant role in the Islamic landscape, where rivers and streams come together to nurture life. It is a critical resource in a region of the world where water is scarce and the management of it is a source of economic and political power. Water and the number four are also often tied in the Islamic garden. In paradise, the four rivers flow with water, milk, honey, and non-intoxicating wine (Carey p. 142). Chapter 55 of the Surat Al-Rahma describes four gardens with trees, fruit, and water in paradise. The four-part or chadar bagh Persian garden is an example, with influences on the gardens of the Taj Mahal (Carey p. 143). The use of squares and cubes in garden, similar to the Kaaba or "The Cube", is also prominent. The gardens of the Topkapi Palace Fourth-Court are one example of the use of squares to organize the green space (Figure 1). Finally, shade is another important symbol in the Islamic garden. The use of trees and plants to provide shade also signifies the role of the garden as a place of refuge or oasis. In the arid landscape, the garden is a safe space where travelers can find rest and protection.
The palace garden, a walled and gated oasis in which water is prominent, where the number four has significance, and where shade is a presence is the model for Islamic palace gardens. Examples in addition to the Topkapi Palace include the Alhambra of Granada, which was built as a fortress and palace in Spain during the Nasrid Dynasty and the Shalimar Gardens of Srinagar, which was built by Mughal emperors and served as a palace extension in which the royal family entertained guests and in which the emperor's harem had a designated space.
Figure 1: Fourth-Court Topkapi Palace http://topkapisarayi.gov.tr/en/content/fourth-court
Nature in Textiles and Carpet Making
In addition to the role of nature and landscape in palace architecture and garden design, there is also a significant and related role in textiles and rug making. As the images in Islamic design translate across a number of mediums, it is not unexpected that the nature theme would also occur in textile designs. Interestingly, since textiles and rugs are more fragile than other mediums, many of the designs in textiles are understood in their reflection in ceramics objects and ceramic tiles. Tulips, hyacinths, and carnations are seen in their stylized forms in textiles, in rugs, and in ceramic tiles, for instance (Denny p. 53). Figures 2 and 3 demonstrate the stylized plant designs in ceramics and in carpets. The artists do not necessarily carry the color themes across mediums, but there is cross over in the subjects and their stylization across Islamic art and architecture.
Figure 2: Dish Depicting Two Birds Among Flowering Plants https://metmuseum.org/search-results#!/search?q=ottoman%20tulip
Figure 3: Carpet with Lilies, Tulips, and Other Flowering Plants (Mughul) https://metmuseum.org/art/collection/search/452197
The use of garden images from ceramics and rug making to textiles used for clothing and home decoration is another transition between mediums. In Figure 4, the textile fragment is a depiction of stylized floral and plant images which mirror the colors and stylization of the carpet in Figure 3. The use of reds, greens, and yellow is prominent in the pieces. A reviewer of the piece sees it as a "portable garden". It reportedly is able to move the paradise garden image from place to place and yet reflects the permanent architecture of the Islamic garden. Figure 5, which is a velvet weave used for cushions and curtains, is of artichokes and leaves from Bursa in the second half of the 16th century. The artichoke is also another image used commonly in both ceramics and textiles. Interestingly the artichoke image was also popular in Venetian velvet textile work at the same time, but there are clear stylistic markers between the two. The objects in Figures 2- 6 are secular in nature, but are inspired by the heavenly paradise narrative nonetheless.
Figure 4: Textile as Portable Garden https://metmuseum.org/blogs/ruminations/2015/textile-as-portable-garden
Figure 5: Rectangular Textile Fragment https://metmuseum.org/art/collection/search/446873
Figures 6 and 7 are prayer rugs and bring the exploration of nature, gardens, and florals in palace architecture and textiles full circle. Unlike most of the textiles and rugs introduced here, the prayer rugs have side to side symmetry, but are not symmetrical from top to bottom. The colors of yellow, red, and green are dominant here, as they were in the textiles above. The "Seneh" Prayer Rug is a kilim comprised of hundreds of flowers set against the outline of a prayer niche. The weaver incorporates the garden of paradise directly into the design. Figure 7 is similar in its depiction of a stylized garden complete with an outline of the garden gate to paradise and the florals in stylized form. This object is a direct depiction of the heaven paradise garden narrative. In these two designs the paradise garden imagery is connected directly to the use of the object, as a religious prayer piece.
Figure 6: "Seneh" Prayer Rug https://metmuseum.org/art/collection/search/452193
Figure 7: Prayer Rug with Niche Design https://metmuseum.org/art/collection/search/447490
The use of landscape and nature in Islamic art is rooted in its relationship to the prominent heavenly garden paradise narrative of the Quran. The Islamic palace gardens are a great examples of the space of refuge created by water, shade, and religious symbolism characteristic of the heavenly paradise narratives. These spaces are meant to transport individuals outside of the earthly concerns and to a space in which prayer and reflection are possible. It is not surprising, therefore, that the Islamic garden, with its prayer niches, paradise gates, and stylized flowers also becomes the imagery on Islamic prayer rugs. One of the most interesting features of Islamic art is how designs, ideas, and narratives are repeated and mirrored from one medium to another. The effect is beautiful, and it is comforting in its ability to tell stories across different types of art.
References
Alhamdra de Granada. https://www.alhambradegranada.org/en/ retrieved 7/2/2018.
Corey, Moya. 2010. Islamic art and architecture. London: Annes Publishing.
Denny, Walter. 2014. How to read Islamic carpets. New York: Metropolitan Museum of Art.
Dumbortan Oaks. Topkapi Palace. https://www.doaks.org/resources/middle-east-garden-traditions/catalogue/C135 retrieved 6/28/2018.
Metropolitan Museum of Art. Carpet with lilies, tulips, and other flowering plants. https://metmuseum.org/art/collection/search/452197 retrieved 6/28/2018
Metropolitan Museum of Art. Dish depicting two birds among flowering plants. https://metmuseum.org/search-results#!/search?q=ottoman%20tulip retrieved 6/28/2018.
Metropolitan Museum of Art. Prayer rug with niche design. https://metmuseum.org/art/collection/search/447490 retrieved 6/28/2018.
Metropolitan Museum of Art. Rectangular textile fragment. https://metmuseum.org/art/collection/search/446873 retrieved 6/28/2018.
Metropolitan Museum of Art. "Senneh" prayer rug. https://metmuseum.org/art/collection/search/452193 retrieved 6/28/2018.
Topkapi Palace. The Fourth Court. http://topkapisarayi.gov.tr/en/content/fourth-court retrieved 7/2/2018 retrieved 7/2/2018.
Wu, Sylvia. 2015. Textile as portable garden. Metropolitan Museum of Art. https://metmuseum.org/blogs/ruminations/2015/textile-as-portable-garden retrieved /6/28/2018.
Public Art Central Park, New York City, NY
New York City's Central Park is such an oasis in a busy city. On the Upper East Side a series of museums including the MET, the Guggenheim, and the Neue Galleries make it an exciting and yet relaxing site to be in.
Heritage Gardens and Museums
During the Rhododendron Festival, Heritage Gardens are an amazing place to visit. Here are some photos of the gardens located in Sandwich, MA. Other festivals are also lovely to see at https://heritagemuseumsandgardens.org/.
Everyday Egyptian Lives in Artifacts
Introduction and Evidence
There are a number of written and archeological sources that permit us to understand the lives of the average New Kingdom individual. The excavated cities of Deir el-Medina and Amarna allow for the reconstruction of the "daily life and the religious practices of the common people" (De Souza Lemos 2011). Additionally, Papyri, writing on limestone, and ostraca, broken pottery, from cities like these, provide insight into the housing, health and hygiene, work, and religion of the non-elite (Dechamps 2003). For instance, the Great Pit, a deep hole in which trash was thrown by common individuals, produced "statues, stelae, reliefs and other architectural features, furniture, basketry, sandals, pottery, ostraca, and papyri" (AEA 2019, Toivari-Viitala 2011). "Limestone furniture; stone tools; faience jewellery; sherds with potmarks; figurines; occasional inscriptions on jar labels; mud document sealings; occasional basketry and textiles; and vessels" also are available for evaluation (De Souza Lemos 2011). Evidence is also based on writings, which include documentary, legal, health, letters, literary, teaching, and religious works (UCL 2019).
From all of this evidence we learn that the average person was not a slave and that the socio-economic system was not a feudal (Malek 1999, p. 26). The non-elite, however, also had different socio-economic statutes. The peasant class was charged with food production and had less resources and esteem (Ikram 2014, p. 219) Scribes were most revered among the non-elite, perhaps because of their value in a society where the literacy rate was low. (Ikram 2014, p. 219 & p. 224). Social standing of craftspeople was slightly better than that of peasants (Malek 1999, p. 26). The archeological and written evidence provide insights about work, housing, health and hygiene, religion, and burial practices for both the non-elite and the elite. This paper will focus on the lifestyle of the non-elite individual in New Kingdom Egypt.
Working
Most ancient Egyptians worked as field hands, farmers, craftsmen, and scribes (British Museum 2019). Some individuals also served in the army and navy (Ikram 2014, p. 231). Farmers were were generally peasants and worked land owned by the Pharaoh, the temples, or high-ranking officials (CMH 2019). Workmen were seen as middle class and fathers passed their trade to their sons and women did not regularly participate in the military or in the crafts professions (AEA 2019). Most individuals worked eight to ten-hour workdays with eight days on and two days off (AEA 2019, Dechamps 2003). Specialist included draftsmen, sculptors, and painters (Dechamps 2003). In Armana, like Deir El-Medina, the relationship was likely client and patron (Archeology 2006). There was some private enterprise, but most craftsmen were tied to their workshops (Malek 1999, p. 26).
The work could be physically grueling, and it took up to ten years to dig a tomb with bronze tools (Dechamps 2003). The lack of stronger metals also led to the use of harder stones to carve reliefs and sculptures (Dechamps 2003). Heavy physical loads likely led to the evidence of injuries to vertebrae and the back (Dabbs and Davis 2013).
Health, Food, and Hygiene
The average person in New Kingdom Egypt had a hard and short life (Archeology 2006). Traumatic injury was common, there was high mortality for women due to child birth, and in some skeletal samples there is evidence that 83% of individuals died before age of 36 (Dabbs and Davis 2013). Healed wounds from pierced scapula and crushed vertebrae also signal the physical hardship of living in New Kingdom Egypt (Dabbs and Davis 2013).
Doctors and dentists had a strong reputation in Egypt and across the region (Ikram 2014, p. 239).
Egyptian medicine was lauded and doctors became specialized, making advances in the treatment of diseases such as cataracts and migraines (Ikram 2014, p. 241). There was a great deal of demand domestically and in outside trade for the medicines they made from herbs, minerals, and animal fats (Ikram 2014, p.242).
Food was relatively abundant for Egyptians because of Nile flooding and the resulting riches of the soil (CMH 2019). Farmers were given quotas and were also given a portion of the food to support themselves (CMH 2019). Barley and emmer were used to make the staples of bread and beer and other foods included "onions, garlic, leeks, beans, lentils, peas, radishes, cabbage, cucumbers– dates, figs, pomegranates, melons and grapes, and honey" (CMH 2019). Hunting and fishing also supported the Egyptian diet (CMH 2019).
In addition to basic health needs, practices around hygiene, beauty, and clothing were important parts of the lives of Egyptians. Barbers and beauticians were among the average workers and there is physical evidence of oils, perfumes, hair pins, combs, and mirrors used by everyday people (Dechamps 2003, Ikram 2014, p. 243). Some obvious differences in clothing between the everyday persons and the elite do emerge, with coarse linen instead of fine linen clothing and bedding and reed sandals instead of leather sandals (British Museum 2019). The simpler lifestyle, in clothing and accessories also was evident in other aspects of lifestyles, including burials and in housing.
Burials and Religion
Burials were much simpler for the non-elite than for the elite and mummification was not practiced frequently on the average person (Archeology 2006). Burials without tombs and without many burial objects was expected. Because the average worker may have come from a variety of locations, individual burial and religious practices varied (Dechamps 2003).
Average citizens did worship the major gods of the Egyptian pantheon such as Amun and Ra but did not have access to the temple sites except perhaps during special ceremonies (Dechamps 2003). The elite handed down leadership roles as priests and these roles were not available to those in the non-elite classes. These workers, whose places of origin were wide spread, also worshipped the local pantheon of gods and gods brought with them from other regions (Dechamps 2003). Ancestral worship was also practiced by average people (Dechamps 2003).
In addition to the religious value of worship, religious practice had a great deal of influence on legal matters. There were three types of law: criminal, sacral, and civil. Criminal law was a violation against the state, sacral was against the gods, and civil was between citizens (Ikram 2014, p. 229). Decisions on legal matters were often moderated for average citizens through the temple and priests and religion and government were inseparable (CMH 2019).
Housing
As mentioned earlier, housing for most workers was much simpler than it was for the elite and homes were adjoined and very similar to one another (Dechamps 2003). Homes, like professions, were passed on through a heredity-based system to family members (AEA 2019). Male household members who were in crafts positions regularly lived away from their families and visited periodically. The homes, made of mud-brick, had wooden roofs and white-washed interiors and exteriors (Dechamps 2003). Only basic household items were owned by the average person and included items such as a few seats, mats, wooden chests, and wicker baskets (Dechamps 2003). Cooking items included a bread oven, kneading trough, grinding stone, and mortar and pestle (Dechamps 2003). Archeological research in Amarna and Deir el-Medina offers a glimpse into what the homes of average workers looked like.
Although the life of the average person was difficult and the life span short, it is clear through the archeological and written evidence that the average person was not a slave and enjoyed some rights of ownership and a limited amount of economic mobility. There is evidence of specialization in work, a simpler life style than there was for the elite, and physical hardship due to hard labor. Excavations in cities such as Deir el-Medina and Amarna have begun to provide new and deeper insights in to the life styles of the average citizen in New Kingdom Egypt.
References
Ancient Egypt and Archeology (AEA). 2019. Retrieved 11/11/19 from http://www.ancient-egypt.co.uk/deir%20el%20medina/index.htm
Archeology. 2006. Barry Kemp Interview. Archeology Institute of America. Retrieved 11/11/2019 from https://archive.archaeology.org/online/interviews/kemp.html
British Museum. 2019. Egyptian life. Retrieved 11/11/19 from http://www.ancientegypt.co.uk/life/home.html
Canadian Museum of History (CMH). 2019. Mysteries of Egypt: Egyptian Civilization Daily Life. Retrieved 11/16/2019 from https://www.historymuseum.ca/cmc/exhibitions/civil/egypt/egcl02e.html.
Dabbs, G. and H. Davis. 2013. Human bones from the South Tombs Cemetery
The 2013 study. Retrieved 11/11/19 from http://www.amarnaproject.com/documents/pdf/STC-2013-bioarchaeology.pdf
Dechamps, C. 2003. In depth studies Deir El-Medina in the Time of Ramses. The Louvre. Retrieved 11/11/19 from https://www.louvre.fr/sites/default/files/medias/medias_fichiers/fichiers/pdf/louvre-depth-studies-deir-medina.pdf
De Souza Lemos, R. 2011. Anna Stevens. On the archaeological work at the
site of Tell el-Amarna, Egypt. Plethos. Retrieved on 11/11/2019 from https://www.historia.uff.br/revistaplethos/arquivos/numero1/annastevens.pdf
Ikram, S. 2014. Ancient Egypt: An Introduction. New York: Cambridge University Press.
Malek, J. 1999. Egyptian Art. London: Phaidon Press Limited.
Toivari-Viitala, J. 2011. Deir El-Medina. UCLA Encyclopedia of Egyptology. Retrieved 11/11/2019 from https://escholarship.org/uc/item/6kt9m29r
University College London (UCL). 2019. Deir El-Medina Ostraca. Retrieved 11/11/19 from https://www.ucl.ac.uk/museums-static/digitalegypt//deirelmedine/ostracaindex.html
Spaces Arizona
Hair
If you have been to SFO, you know that you will be lucky enough to see carefully created exhibitions all over the airport as you wait for your flights. The following photographs are from SFO and from the San Francisco Museum of Modern Art.
The first set of photographs are from SFO and are the creations of Jeff Hafler of the Beauty Bubble 2020 at https://beautybubble.net . The salon is also a museum of hair artifacts and the following pieces are both fun and full of energy.
If you look behind the sculptures, you will see a copy of the cover of Beauty Trade Magazine. I have embedded an article that shares the important history of the magazine.
Interestingly I also ran into the an exhibit at SFOMOMA that also celebrates the history of black women, their families, and their impact on their communities. Tied to that exhibit were works by Adrian L. Burrell, in partnership with his sister, that explore African American hair culture. The two artists first created head pieces out of steel wool and flowers and then photographed their mother and grandmother. Below the photographs from the Crowns and Chains exhibit, I have also embedded Adrian L. Burrell's website.
In the Air
Photos of airline uniforms from the late 1960s and early 1970s displayed at the SFO Summer 2021.